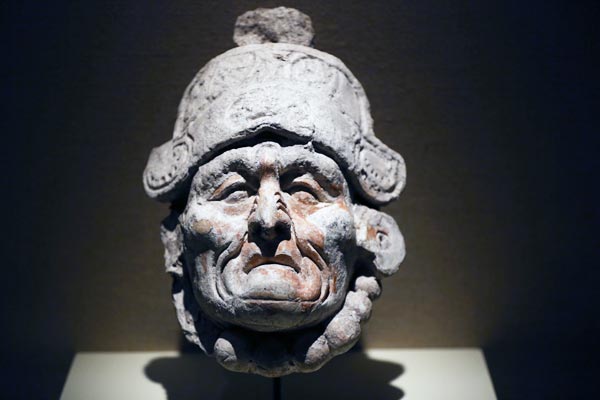 Mayas: The Language of Beauty exhibition displays 238 cultural relics from Mexico. Jiang Dong / China Daily
A mysterious atmosphere builds up inside an exhibition hall as Chinese visitors look at the artifacts from the ancient Mayan civilization from several centuries ago and at a place more than 10,000 kilometers from China.
A few visitors might even know something about the Mayas and their culture, especially their doomsday prophecy - about the end of the world - through the movie 2012. But the Chinese visitors view an entirely new world at the display.
The National Museum of China in Beijing opened one of the country's biggest exhibitions of cultural relics of Latin America, Mayas: The Language of Beauty (Mayas: El lenguaje de la belleza), on Friday. President Xi Jinping and Mexican president Enrique Pena Nieto cut the ribbon for the exhibition the previous day.
The exhibition displays 238 cultural relics from 20-odd institutions in Mexico. It is the museum's first cooperation with that country, according to Huang Zhenchun, deputy director of the museum.
Major items at the current exhibition include pottery sculptures, burial objects and stelae. Some of the treasures had even never been taken out of Mexico before, the official says.
"Chinese usually know Mayans as famous for their astronomy, math and calendar but do not know much about their other endeavours," says Tong Chunyan, the Chinese curator of the exhibition. "Our focus is to present individual Mayans' views of themselves, their aesthetics and their connection with society and nature.
"The show opens up a new horizon for visitors, and we hope to stage similar events in the future."