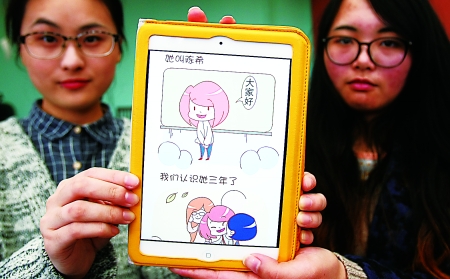 Chen Xi's classmates with the cartoons.[Photo/chinacqsb.com]
Chen Xi, a female student at the Filmmaking & Animation College of Sichuan Fine Arts Institute in Chongqing, has multiple sclerosis and faces high treatment costs. To raise donations for her medical care, Chen's classmates drew a set of cartoons about her story and posted them online. As of Nov 11, they have collected over 90,000 yuan ($14,693).
A person with multiple sclerosis can have almost any neurological symptom, with autonomic, visual, motor, and sensory problems being the most common. A warmhearted girl who loves to laugh, Chen is subject to loss of sight, hearing and memory, as well as aphasia, or the loss of the ability to communicate.
On learning of Chen's illness, class monitor Wang Yingjie and 30 classmates quickly solicited contributions for her through Weibo (a Chinese micro blogging site similar to Twitter) and other social media. Employing their professional skills, the classmates spent two days illustrating Chen's story through cartoons.
On Oct 30, they posted a message with the cartoons on Weibo and collected 50,000 yuan ($8,157) on that first day. "I express my heartfelt thanks to the anonymous netizens, for their trust in us and benevolence", said Wang Yingjie.