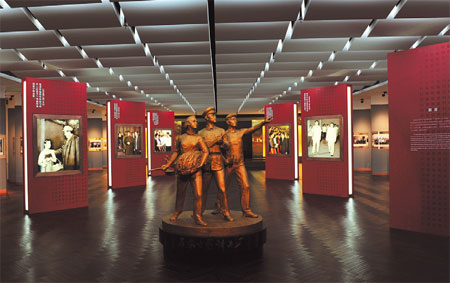 The galleries in the museum offer visitors scenes from classic movie scenes that bring back old memories.[Photo by Qiu Zhaomin/for China Daily]
After three years of refurbishment, a new film museum built on the old site of China's famous Changchun Film Studio in Hongqi Road opened to the public.
The old Changchun Film Studio - or Changying - was the first film studio in New China and made several pioneering achievements in China's film industry. The new museum is another chapter for the studio, which is known as the cradle for Chinese films.
The museum includes a number of documents to help visitors learn about the history of the film studio and industry.
Changying's predecessor was the Manchuria Film Company, which was founded in 1937 during the Japanese-supported puppet Manchurian regime. The company included one office building, six studios, one recording room, one film developing room and several prop rooms. The company moved to Hegang in Heilongjiang province after Japan's surrender in 1945, and moved back to Changchun in 1949. Its name was changed to Changchun Film Studio in 1955. Since then, the studio has produced more than 900 films.
The studio, which became dilapidated over the years, started to develop itself as a tourism attraction in 2002. Refurbishment work started in 2008 and was followed by reconstruction work to turn it into a film museum in 2011.
Today, the studio has a new look as well as new functions and includes a local film gallery, gallery for translated films, studios and art cinemas. The old part of the factory was transformed into the first theme park for old films.