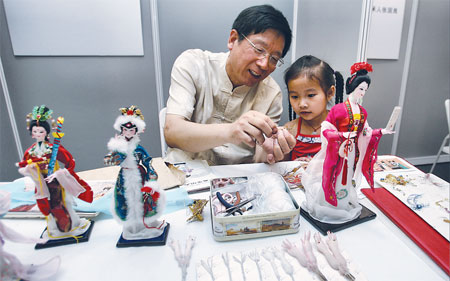 Hua Shulin, a master of juanren, or silk doll, shows his skills to a young girl. [Photo/China Daily]
Exploring intangible culture can enrich any visit to the Middle Kingdom, China Daily reports.
As the capital of China almost uninterruptedly for about 800 years, Beijing has nurtured a reservoir of abundant cultural heritage.
While it's easy for visitors in this ancient city to see and marvel at the great historical architecture and the relics exhibited in museums, there is an equal richness in the collective memories embedded in intangible cultural heritage one can find all over the city.
When China established the first national intangible cultural heritage day in 2006, Beijing also launched a general survey to collect and share knowledge of these treasures reflecting the development of a city and people's lifestyles.
More than 12,000 items are contained in the survey, with a wide range of categories including folk dance, music and craftsmanship. The survey involves systematic audio and video recording of the items, as well as a 20-volume book on the project that introduces more than 3,000 items.
There are 108 items listed on the nation-level intangible cultural heritage list. Another 235 are inscribed as city-level items, and 43 more items are to be soon added to the list.