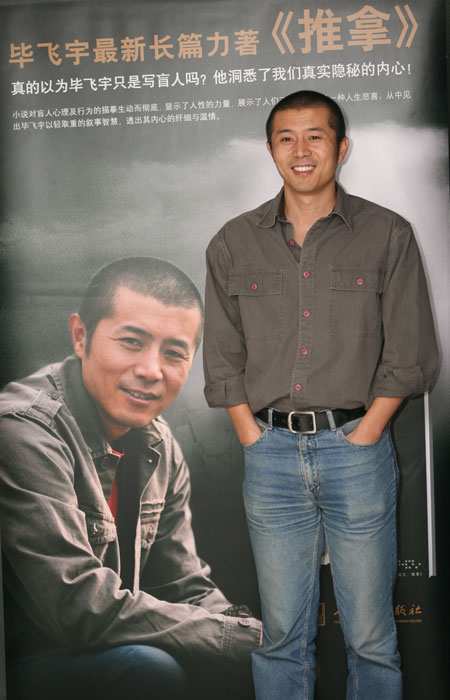 Bi Feiyu wins the 2011 Mao Dun prize, one of China's top literary awards, for his novel Tui Na, which captures the lesser known world of the blind. [Photo by Pu Dongfeng/China Daily]
Chinese cities and towns are dotted with massage parlors, many of which are managed entirely by blind people. Of the estimated 17 million visually impaired Chinese, hundreds of thousands are said to serve as blind masseurs across the country, not just in parlors but medical facilities as well.
Tui Na (Massage), a Chinese film that has sought to capture the lesser known world of the blind, and which won a Silver Bear at the Berlin international film festival earlier this year, is scheduled to hit screens in China later this month.
The film, completed this year, was adapted from Bi Feiyu's novel by the same name, and tells the stories of happiness, sorrow, love and longing among a handful of blind workers at a small massage parlor in Nanjing, capital city of eastern China's Jiangsu province, where Bi lives. The novel is universal in the sense that the massage parlor could be anywhere in the country.
"I didn't make the blind see the world, but I made the world see the blind," said Bi, 50, after he was announced the winner of the Mao Dun prize, one of China's top literary awards, in 2011.
His novel Tui Na doesn't have a single protagonist, but about 10 blind masseurs, whose lives are intertwined as they all work in the same parlor. Each of them has his or her own story to tell, about the daily struggles and living with social prejudice or the lack of empathy from people with sight.
One character is that of 20-something "Little" Ma, who after a failed suicide bid begins to come to terms with the loss of his eyesight in a car accident when he was 9. As he starts to work at the Nanjing parlor, his life seems to be going on fine until a young woman named "Little" Kong lands there with her fiance for employment.