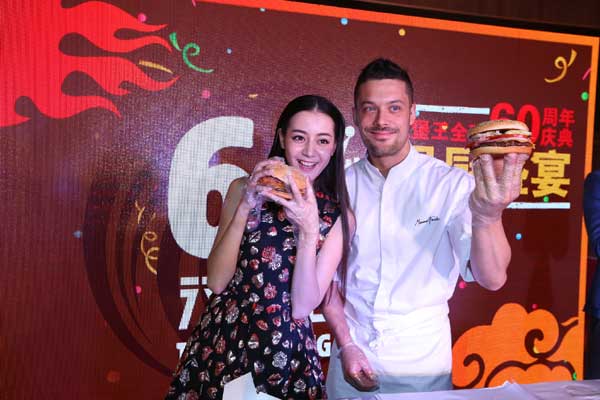 Chefs and entertainment stars attend a celebration for the 60th anniversary of the founding of Burger King at its U-Town store in Beijing.[Photo provided to chinadaily.com.cn]
Burger King, an American fast food chain restaurant, is holding a celebration in Beijing to mark the 60th anniversary of the founding of the company. The eatery invited French chefs Maxime Fanton and Nicolas le Bec to introduce a new item on the menu: the Texas smoky house burger.
The beef burger uses quality meat that is marinated, steamed, roasted and smoked, and matched with the brand name's barbecue beef, crispy onions and delicious sauces.
Another new smoky item, the chicken burger, uses Mexican chili sauce, tomato sauce, as well as corn bread.
Burger King's U-Town branch in Beijing celebrated the anniversary with a live show, along with a burger tasting featuring celebrity chefs and entertainment stars.
People who buy the new smoky beef and chicken burgers will receive free potato chips and a Pepsi soft drink. Burger King is also cooperating with Dianping.com to give away dining coupons.
Burger King was founded in Miami in 1954. It has more than 14,000 restaurants in the United States and more than 100 countries. The restaurant entered China in 2005 and has set up 225 branches in 52 cities, according to the restaurant.