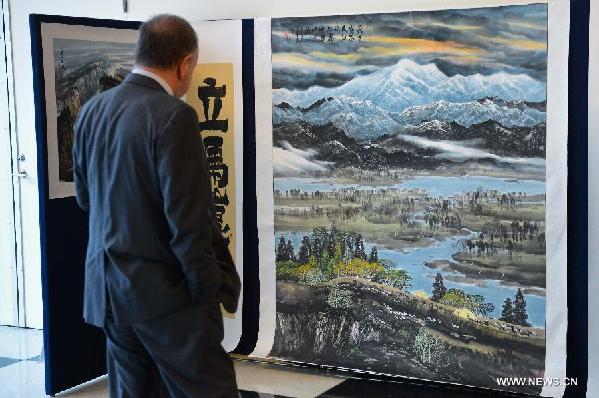 A man visits a Chinese art exhibition at the UN headquarters in New York Oct 27, 2014. The Chinese art exhibition opened on Monday to present natural sceneries in China, with the "preserve environment, cherish homeland" theme. [Photo/Xinhua]
A Chinese art exhibition opened Monday at the United Nations headquarters, which features sceneries in China.
The five-day exhibition, with a theme of "preserve environment, cherish homeland", put on display paintings and calligraphy works by renowned Chinese painter Zhang Jinyou on such sceneries as the Yangtze river and Mount Tai in the eastern province of Shandong.
"I painted mountains and rivers in China, and they are all beautiful sceneries in the country," Zhang said, who is famous for his painting style of combining Chinese traditional culture with Western art.
"I hope these paintings can inspire people to protect what we truly love -- the natural beauty and make the world a better place," he added.
One of his paintings has been issued as a special stamp of the Beijing Olympic Games in 2008.