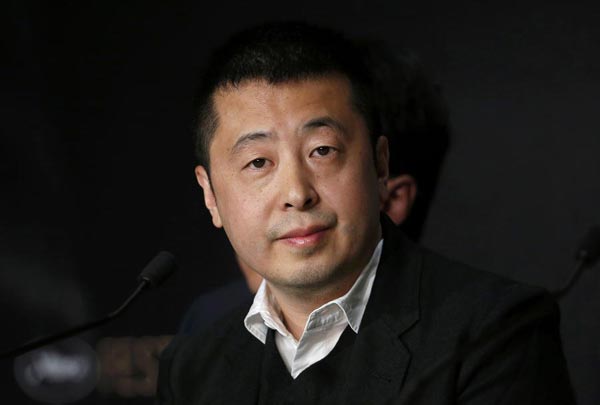 Jury member director Jia Zhangke attends a news conference before the opening of the 67th Cannes Film Festival in Cannes May 14, 2014. The festival will run from May 14 to 25. [Photo/Agencies]
SAO PAULO -- China's director and screenwriter Jia Zhangke may be a well-known figure at world top film festivals such as France's Cannes, but he is worshiped by Brazilian cinephiles as the most important living filmmaker today.
The 44-year-old came to Brazil's leading international film festival, the Sao Paulo Mostra, for the world premiere on Oct 25 of the documentary "Jia Zhangke, The Man from Fenyang," and for the launch of the book "The World of Jia Zhangke."
"This documentary was very important for me. It allowed me to understand who I am. For that reason, I am very grateful to Walter Salles," Jia told the audience at the premiere.
The documentary was directed by acclaimed Brazilian filmmaker Walter Salles, director of "Central Station" and "The Motorcycle Diaries". He also edited the book written by Jean-Michel Frodon, a respected film critic.
"Next time I think about quitting making movies, I know what I will do: I will watch this documentary again. This film made me understand I will never be able to separate myself from cinema," added Jia.
Jia, the creator of the 2006 feature film "Sill Life," which won the coveted Golden Lion at the 63rd Venice International Film Festival, was a guest at the festival seven years ago for a comprehensive retrospective of his work.
He also told Xinhua about his movies and how they relate to China and the world, saying his works are about ordinary people and the contrasts that exist in changing societies, such as his own and Brazil's.
In his book on the director's life, Frodon says Jia's movies are a unique portrait of China's rise to a superpower in the early 21st century.
"China and Brazil, during the process of their social reforms, feature the new and the old, the poor and the rich. I fell in love with ordinary people, which is linked to my process of growing up and to my memory," he said.