Real-life maze constructed for 'Maze Runner' premiere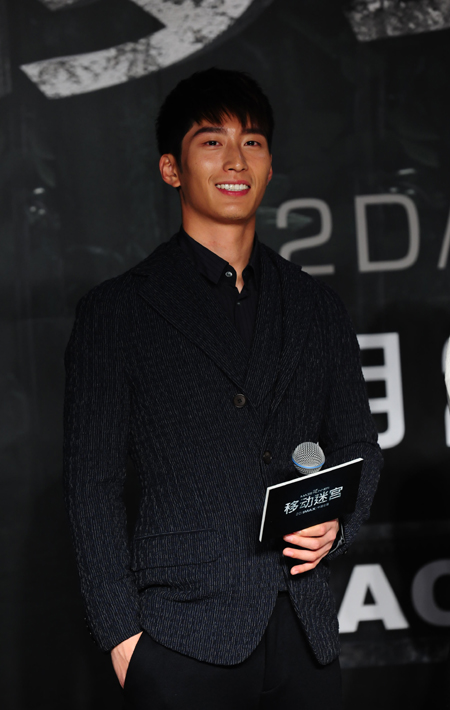 Chinese actor Dou Xiao attends the premiere of sci-fi thriller "The Maze Runner" in Beijing on Oct 24, 2014. [Photo/China.org.cn]
Sci-fi thriller "The Maze Runner" directed by Wes Ball
premiere
d in
Beijing
on Friday with a real constructed maze in a shopping mall.
The dystopian film is based on James Dashner's 2009 novel for young adults of the same name. It is the first installment in "The Maze Runner" film series. The film stars Dylan O'Brien, Thomas Brodie-Sangster, Ki Hong Lee, and Will Poulter.
The film tells the story of Thomas (O'Brien), who wakes up in a rusty elevator with no memory of who he is, only to learn that he has been put in the middle of an intricate maze, along with a group of other boys, who are trying to find their way out of the ever-changing labyrinth -- all while establishing a functioning society in what they call 'the glade'.
The film has been released in the United States and other markets starting from September 2014 and has received generally good reviews. It topped the North American box office during its opening weekend with a $32.5 million debut, and since its release, the film has grossed over $257.1 million worldwide against its budget of only $34 million.
The Chinese distributors China Film Co., Ltd, China Film Huaxia Film Distribution Co., Ltd and 20th Century Fox constructed a real movie-themed maze at Indigo Mall in Beijing, which is open to movie fans and regular shoppers until Nov 12.
Chinese actor Dou Xiao, who starred in Zhang Yimou's "Under the Hawthorn Tree," took the maze challenge as a "Chinese maze runner" at the premiere, exciting fans.
"The Maze Runner" will hit Chinese theaters on Oct 28, 2014.