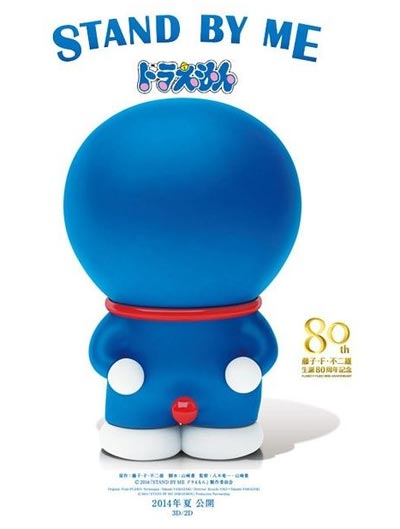 Film poster of "Doraemon: Stand by Me". [Photo/Agencies]
The 3D film,
Doraemon: Stand by Me
, has taken the Japanese box office by storm ever since its opening on Aug 8 this summer, earning more than 8 billion Japanese yen ($73.4 million). Now, Chinese moviegoers will get a chance to see it for themselves as the film is scheduled to debut in China in early 2015, reports 1905.com.
Doraemon is a familiar word to the post-'80s and '90s generations in China. This year marks the 80th anniversary of the birth of Fujiko F. Fujio, the creator of the futuristic cat robot. It is also the first time a 3D version of a Doramon film was ever produced.
The film centers on the friendship between Doraemon and Nobita, from the time they first meet to their final departure from each other. It has won more than enough laughs and tears from Japanese audiences and has raised the expectations of Chinese fans.
The film has already been playing in 57 countries and regions around the world and China, France will soon be added to the list. An Internet user commented: "The 'chubby blue' (how Doraemon is often referred to in China) is taking over the world!"