Fashion designer Oscar de la Renta dead at 82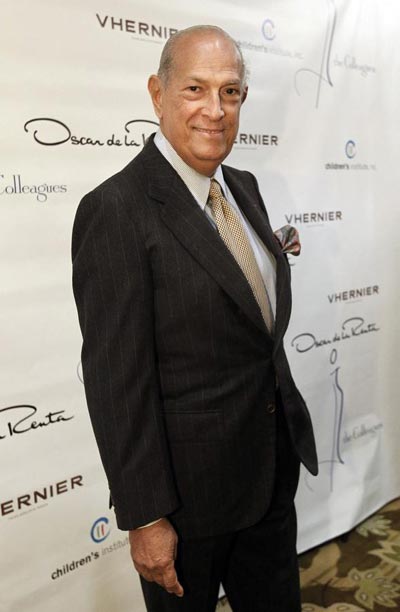 Fashion designer Oscar de la Renta poses at The Colleagues 22nd Annual Spring Luncheon in Beverly Hills, California in this April 12, 2011 file photo. [Photo/Agencies]
Oscar de la Renta, one of the most sought-after fashion designers of the last half century, dressing American first ladies and Hollywood stars in his classic silhouettes, died on Monday at the age of 82.
An individual taking calls at the designer's residence in Connecticut on Monday night confirmed his death, first reported by ABC News. The New York Times said de la Renta died of complications from cancer.
De la Renta was born to a prominent family in the Dominican Republic and went to Spain to study art, but was drawn to fashion and started working alongside Spanish designer Cristobal Balenciaga.
He made his name in the 1960s dressing one of the major fashion icons of the day, first lady Jacqueline Kennedy, and established his company in New York in 1965.
De la Renta was known as one of the industry's classic creators, famous for elegantly feminine designs marked by flattering silhouettes with full skirts and cinched waists, often rendered in soft hues and floral patterns.
Most recently, de la Renta made the wedding dress for human rights lawyer Amal Clooney for her marriage in Venice, Italy, last month to Hollywood actor and director George Clooney.
"George and I wanted a wedding that was romantic and elegant, and I can't imagine anyone more able than Oscar to capture this mood in a dress," Amal Clooney told Vogue magazine.