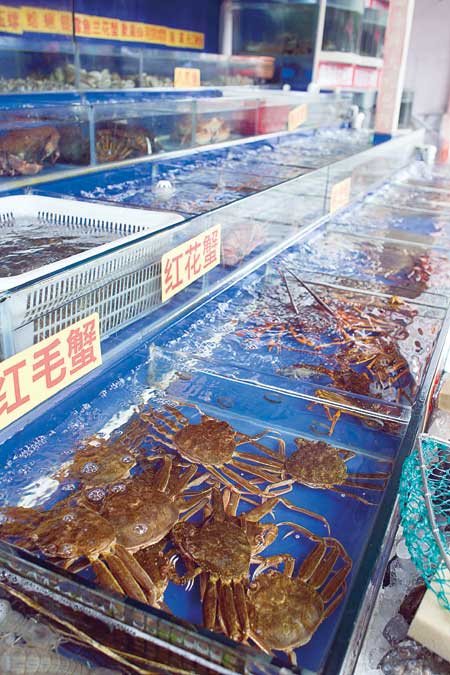 Crabs galore: Spider crab and red sea crab [Photo by Gao Erqiang/Shanghai Star]
Fish and prawns, conches, geoduck clams, cockles and whelks. Crabs are the current stars of the season. They are all here, displayed in their fullest glory at Shanghai's most famous gathering of seafood sellers. Pauline D. Loh and Cheng Sijia file this report.
There is just about everything under the sea here, from plankton to prawns, from estuarine fishes to deep-sea catches. Tongchuan Road Seafood Market is the biggest and probably best in Shanghai, although it has been under threat of eviction for the last few years.
Here, all sort of aquatic products are displayed in rows upon rows of room-sized aquariums, while on the floor, bubbling pools of water harbor more seafood. The market was set up in 1996 and many shops have been resident here for more than 10 years. As recently as three years ago, this was a tough neighborhood. Cars passing by often had their windows broken.
After the local government swept through the area with stringent reforms, security has become much improved, which only made business better. International hotel chefs get their seafood supply here, as do most local restaurants, large or small. Weekends and festivals are the busiest times, with the price tags being jacked up proportionately to demand. The penny-wise Shanghai householder shops here as well, although they are resigned to the high prices and "non-negotiable" terms. Something that surely rankles.
That "take it or leave it" attitude is the direct result of supply and demand. This is about the only place where you can get really fresh seafood from around the municipality, or from abroad.
Every shop is doing a roaring trade, including the little holes in the wall. Li Peng, a shop assistant at the 15-square-meter Linji Aquatic Shop, says the profit from his shop can go up to the millions, although competition is eating into the margins.
"The recession is especially obvious since President Xi Jinping came into power. He doesn't allow extravagant meals for his officials, so we've lost a group of customers," Li says, with a wry laugh.