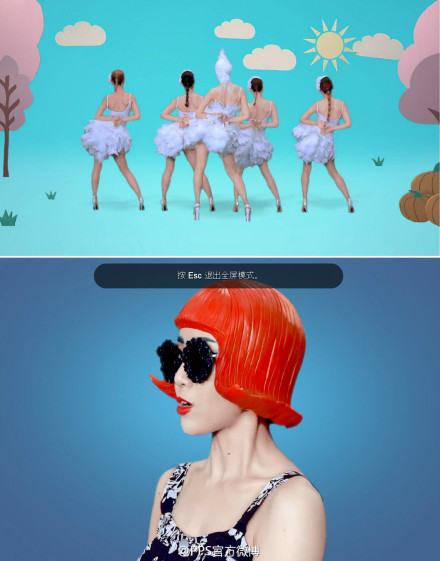 The screen grab of the song Chick Chick. [Photo/Sina Weibo]
Since Oct 23, when Chinese singer Wang Rong released her new music video,
Chick Chick
, on Sina Weibo, a Chinese version of Twitter, the music video has become a lightening rod for Internet opinion.
Most Weibo users have criticized the weird musical style and cock's crow from the beginning to the end.
One internet user posted, "The lyrics from the beginning to the end are less than five words - chick, hen, cock and Goo-goo-day." Another internet user also posted, "I feel soon collapsed after hearing the screams of various animals during the whole music. And Holiday is nothing compared to Chick Chick."
This is not the first time that Wang Rong caused controversy. Her music video Holiday released in 2013 drew much criticism for nonsense lyrics and coarse dancing.
Singer Wang Rong became a household name in China after she released the song I'm Not Huang Rong in 2012. The humorous lyrics and catchy tune made the song a huge favorite with young people. But today, in the eyes of many netizens, Wang Rong has changed musical styles, ironically veering more towards sensationalism.
There is no doubt that the music video Chick Chick attracts the attention of netizens instantly. Within three hours after the song was released online, there was a netizen who imitated the dance in the music video.
Renowned Chinese musician Chen Weijian commented that the spirit of the experimental music Chick Chick is undeniably laudable, but lacks creativity.