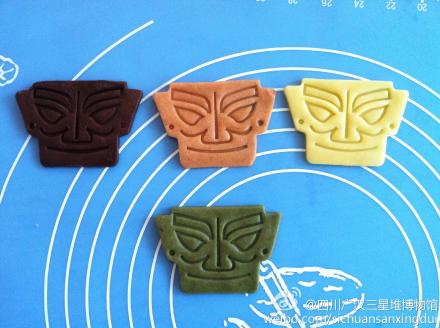 [Photo/Sanxingdui Museum]
As the Palace Museum's court beads earbuds and other creative souvenirs recently became a hit, other museums, which are not willing to lag behind, are following in its footsteps by designing cute souvenirs.
The Sanxingdui Museum in Guanghan city, Sichuan province, recently designed a series of cookies based on its collections of mysterious bronze masks. The masks are from the ancient State of Shu and date from around 3,000 years ago.
According to Beijing Times, Zhu Dandan, a museum staffer said, "When I was casually baking at home last year, I tried to make some cookies imitating the shape of ancient masks in our museum. Then I posted the pictures of these cookies on Weibo, and they became quite popular among friends online. Then I talked to the museum and we decided to make this part of our promotion. We got our patent in May this year and began to officially produce our cookies."
The biscuits have been on pre-sale since July and come in four flavors: original, matcha, strawberry and chocolate.
It is said that the museum has partnered with a famous domestic food enterprise to develop more creative cookies. The making of pastries and chocolates in the shape of a bird, sun gear and a jade wall are within the museum's next plan, as well as opening an online store.