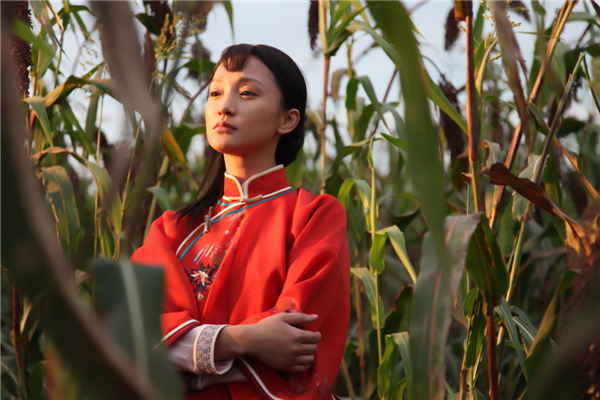 The 40-year-old film star Zhou Xun plays a 19-year-old protagonist in the 60-episode TV series Red Sorghum. Photo provided to China Daily
Film star Zhou Xun surprised viewers by returning to TV. Then again, the 'queen of quirk' is known for atypical antics. Xu Fan speaks with the actress about her role in the serial Red Sorghum.
It's unusual for China's big movie stars to take to the small screen. Then again, Zhou Xun is exceptional in many regards-leading CNN to dub her "China's queen of quirk" in a 2010 profile. But that's not the only thing that has surprised viewers of the TV serial in which she plays the lead.
The 40-year-old has courted controversy by playing the 19-year-old protagonist of Red Sorghum, an adaptation of Nobel-winning author Mo Yan's 1986 novel.
Yet many point out she looks young for her age-unusually young.
The 60-episode series aired by four major satellite channels since Oct 27 chronicles the struggles of the brave Jiu'er (literally, Nine) in rural Shandong province in early 1930s.
Zhou tells China Daily in a WeChat interview she took the job because she was so impressed by the script.
"I had dinner with the director, Zheng Xiaolong, who'd impressed me with his talent. Since I'm a longtime fan, it didn't take long for me to agree to work with him," she says.
Related: Mo Yan moved to tears by adapted TV series of his novel