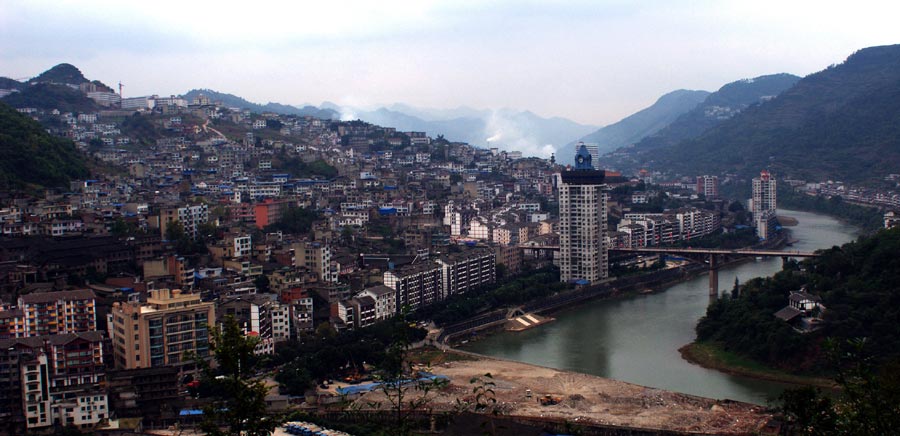 Feng Yongbin / Zhang Wei / China Daily
Moutai Town, a hamlet in the north of Guizhou province, is nestled in a deep valley surrounded by three mountains, with the Chishui River running through it. It has since time immemorial been a natural cellar for the production of baijiu, or Chinese white spirits.
Home to about 50,000 people, the town has more than 800 registered baijiu businesses valued at $23.5 billion. The best known, of course, is Moutai, also called China's national liquor.
You come to the town in a bus or car from Guizhou's capital Guiyang, which is about four hours by road. The minute you step off the vehicle and out into the open air in Moutai, the aroma of the fermented red sorghum that is used to produce the distilled liquor assails you.
Locals are proud to tell you that when it rains-and it often rains here-you can get pleasantly intoxicated just standing out in the open.
China Kweichow Moutai Winery (Group) Co Ltd, the company behind the liquor, and which has diversified into many businesses, employs nearly 20,000 people in its 3-square-kilometer premises.
Outside the distillery, on a nearby hilltop, a massive, seven-story building in the shape of Moutai's signature red-and-white bottle greets visitors.
At the entrance of the facility stands a gold-painted bronze statue of New China's first premier, Zhou Enlai. He is hailed as the father of Moutai. It was he who picked Moutai as the liquor of choice at the banquet to celebrate the founding of the People's Republic of China in 1949. He took it on his diplomatic missions as China's calling card and effectively made it the national liquor.
Visiting the factory, you will be struck by the mix of traditional methods and state-of-the-art technology that is used in the production of the premium liquor.
The company marks the start of a new production cycle every year on the ninth day of the ninth lunar month with an elaborate ceremony. This year, because the date fell during the National Day holidays, the ceremony was deferred to the end of October.