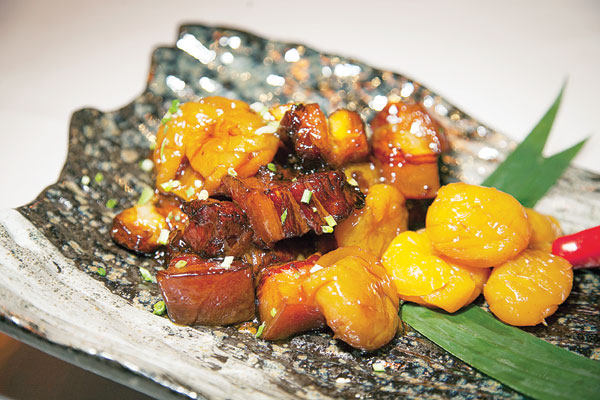 Fusion: Candied plums offer the notoriously greasy Shanghai pork a fresh and sour balance. [Photo provided to Shanghai Star]
The competitive Yunnan cuisine market has a new player, Yun & Lanna, a restaurant that is blending the best of the region with a taste of Thailand. Xu Junqian checks it out.
When it comes to Yunnan province, the last thing in need of further explanation is the region's large variety of food. Yunnan is famous for its ham, flower cake, and diverse range of mushrooms that have gradually become seen as a more affordable alternative to black truffles in China and throughout Asia.
At the opening of Yun & Lanna near Hengshan Road in the former French Concession, the talk revolves around the "little space left between authenticity and localization in the competitive Yunnan cuisine market".
The chef, a Yunnan native, fills this space with "internationalization", with influences from Northern Thailand and Shanghai.
To start is a trio of cold platters consisting of Lanna beef, spicy pork feet and pork sausage. The meat is well prepared with a variety of spices and herbs, readying the palate for the upcoming dishes. Especially notable is the large dried red pepper dotted among the meat.
They are crispy, not spicy, and make the perfect pre-cursor to the hot dishes. Anticipation for the main meal builds thanks to the aromas floating over from neighboring tables.
Of the main courses, the much talked about deep-fried Tilapia is OK, but forgettable. Perhaps it was simply outshone by the honey-glazed and braised pork with green plums. These ping-pong-ball-sized plums grow in abundance in Dali, and the locals preserve them as candied snacks.
The plums save the notoriously greasy Shanghai signature pork, balancing it with a subtle sourness, and unfortunately, turning it into a calorie bomb. The pork fat soaks into the plums giving them a satisfying richness.