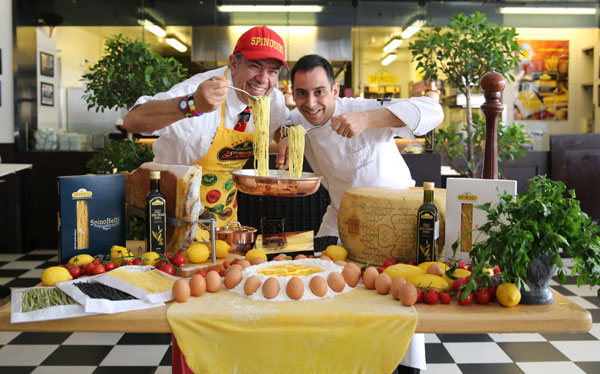 Pasta maker Vicenzo Spinosi (left) and Francesco Sanna, head chef of Via Roma. [Photo provided to china Daily]
Acclaimed chef brings his family specialties to Chinese diners.
On a typical Thursday morning, food editors and reporters in Beijing gathered at Via Roma Italian restaurant, to see what a visiting guest dubbed the "King of Pasta" will turn out to be like.
What we've known beforehand was that he is a man who has many major titles.
Besides being hailed as the "King of Pasta" in his country, Vincenzo Spinosi also bagged the title of "Grand Official of Italy", a much honored prize for Italian citizens that is bestowed by the head of state, touted as the equivalent of the Nobel Prize in Italy.
He is also one of three Italians to receive a Five-Star Diamond Award from The American Academy of Hospitality Sciences.
When we finally meet him, we are disarmed by his comic manners and humility. The chef runs a small family business that has taken maccheroncini beyond the confines of a small village to become one of the most famous Italian products in the world.
Spinosi, based in Campofilone, in the Province of Fermo in the Italian region of Marche, is acclaimed for his pasta creations that retain the original traditions.
His pasta is not only tasty, but healthy as well, rich in Omega-3 and vitamin E.