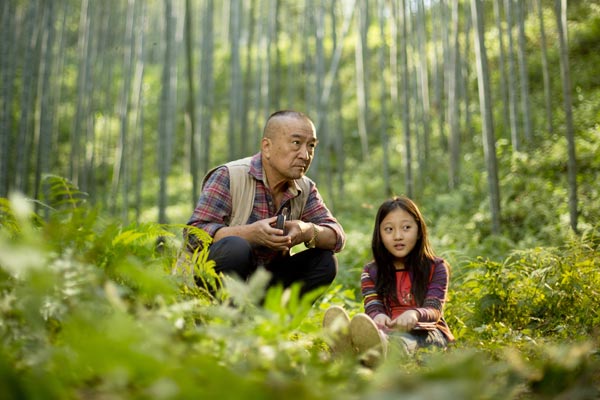 A scene from The Nightingale, a Sino-French co-production that was chosen as China's official entry to the 2015 Oscars for Best Foreign Language Film. Photo provided to China Daily
The Nightingale seemed to come from nowhere to be China's official entry to the awards, but experts see compelling reasons for the choice, Han Bingbin reports.
A small production has taken the public by surprise after it was chosen as China's official entry to the competition of the 2015 Academy Awards for Best Foreign Language Film.
The Nightingale, a Chinese-French co-production that was finished in 2012, and had its release date postponed several times for unknown reasons, has shot to overnight fame thanks to the breaking news.
Directed by French director Philippe Muyl, the movie tells the story of an elderly Beijing man who takes his granddaughter on a nostalgic trip back to their hometown in Guangxi Zhuang autonomous region. In what's also a spiritual path, the old man attempts to find peace with himself and fix his crumbling relationships. The storyline reminds audiences of Muyl's 2002 work Le Papillon (The Butterfly), which enjoyed a global success.
Scheduled for a general release on Oct 31, the movie had an exclusive screening for a week in late September in Nanning, the capital city of Guangxi, to meet the Oscar criteria that requires eligible films to be shown in their home countries for consecutively seven days a year before Oct 1, the deadline for submission.
What other efforts were made by the movie's producers to get picked by the authorities have been carefully kept from the media. Producer Ning Ning told Sina Entertainment they would hold a news conference on Oct 20 to address speculation.
Speculation also swirled around better-known films that didn't get the Hollywood nod.