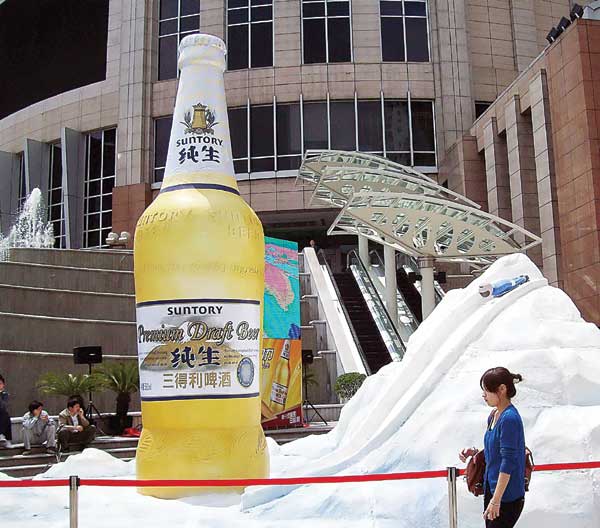 Shanghai locals prefer the lighter malt flavors of Suntory beer. [Photo provided to Shanghai star]
Even though it's the oldest fermented drink in the world, beer isn't beloved by one and all, at least not in China.
There is still a fair-sized group of people in Shanghai, especially the old Shanghainese, who prefer yellow rice wine or huangjiu on their dinner table. Perhaps that why Shanghai does not have its own brand of beer, unlike other Chinese cities like Beijing, Qingdao or even Dali in Yunnan.
There is no doubt that the beer market in Shanghai is quite fragmented, with major Chinese and foreign brewers all seeking to expand their presence here. Tsingtao Beer, for example, has its bottling facility in Songjiang, while Japanese beer brand Suntory set up two facilities in Pudong and nearby Kunshan respectively.
"As a local Shanghaiese, we would always prefer beer with a lighter flavor of malt as it tastes better. That's why I always drinks Suntory beer, and they have one brand that is delivered to community shops and supermarkets the day it's brewed, to maintain the freshness and flavor. It is especially popular during summer," says 70-year old Wang Guoli, who lives in Zhabei.
"In recent years, brands such as Tsingtao and Budweiser are selling well in our store because they are always having promotions. Suntory also takes a big market share because it has several different types in line with its different alcoholic degrees." says Zhang Liang, a salesman from a RT-MART supermarket in Zhabei. However, beer and beer drinking mean different things to the younger generations.
"Nowadays, young people are more likely to choose beers with higher alcohol content as a quick way to relax and release pressure. We all like Heineken Brouwerijen because it can be found in lots of bars and the flavor is stronger than other beers," says Fan Zhelong, a 22-year-old student from Shanghai University.
"I still remember the day when I drank beer for the first time, the day I graduated from high school. I take it as a turning-point from boy to man.
"We miss those past school days, talking about dreams and plans for the future while drinking beers. Right now, if I encounter some problems or sadness, I will still choose to drink a beer alone.
"I think this is what makes beer attractive. You probably won't fall in love with it at first draught, but you just can't help loving it as time goes by." Zhang Ruxue contributed to the story.