Beer hug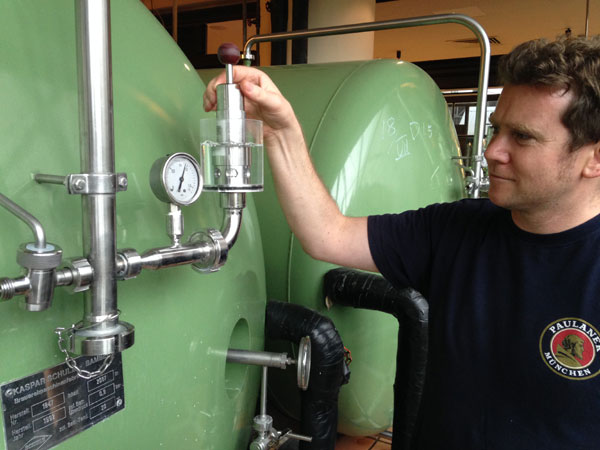 Wolfgang Sesser takes charge of the brewing process at the Paulaner restaurant of Beijing's Kempinski hotel. [Photos by Mike Peters/China Daily]
A German master brewer has made China his home, serving up some glasses, distinct in their northern and southern tastes. Mike Peters reports.
There's an old punch line, popular on T-shirts at college campuses, that goes, "Beer: It's not just for breakfast anymore."
And then there's Wolfgang Sesser, who sees his first beer of the day before dawn.
"Today I am making lager," says Sesser, 39, arriving in the brewing room of the Paulaner restaurant at Beijing's Kempinski hotel around 5:15 am. "Tomorrow I will be making the year's first batch of Oktoberfest beer."
The German expat's early-morning chore is a "mash in", putting malt extract into the water for a day of cooking, first at 55 C and then gradually hotter.
"The brewing or cooking takes six hours, so we can make two batches every day," he says, manipulating temperature controls at the base of two huge copper kettles that each hold about 1,000 liters of "baby beer".
After cooling at day's end, the beer will be piped to fermentation tanks a few meters away, where the alchemy of yeast, malt and water will break down starch into smaller sugars over the next week.
Finally, the beer will be stored for between one and three weeks. The turnover is faster in the summer, when the flow from the brewery's big green storage tanks is fastest, but the beer is better in the winter, Sesser says, when it's allowed to stay a little longer.
Born in Mondsee, Austria, a small village near Salzburg, Sesser has called Beijing home since 2011, but it happened indirectly.
"My wife is a Beijinger, but we met in South Korea," he says, when he was working in a hotel handling the sales side of beer.