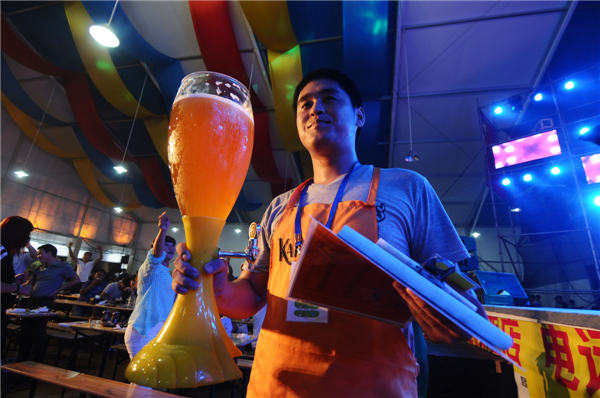 A festival employee carries a glass of fruit-flavored beer at the annual Qingdao Beer Festival in the coastal city in Shandong province. Wang Haibin / For China Daily
Bikinis, beach volleyball and other entertainment help a summer festival grow every year.
It's a breezy summer day in coastal Qingdao, and I am awash in beauty and beer. I've been hanging out all morning with 48 lovely young ladies, each one a beauty contest winner in her home country or region. They've come to China for about 20 days of publicity appearances, ending with a bikini contest on the final weekend of Qing-dao's annual beer festival.
Andrea Torres, the 20-year-old contender from Panama, is participating in just one of the entertainments surrounding the festival. But she's not drinking beer.
"Nooo!" she says, laughing. "When you do this, you have to be healthy, eat healthy."
Even more than most foreigners in China, these ladies are eagerly photographed by local admirers. Namibia's statuesque Carlen Nell, 18, is a camera magnet because she is extremely tall as well as pretty. Martina Stetiarova, 24, is also awash in a sea of camera flashes: The Slovakian is tall, beautiful AND blonde.
"The bikini girls" are quite busy: Learning to do Chinese paper cuts (photo op). Getting an introduction to Chinese opera (photo op). Lunch (no photo op - who looks good when they're eating?). Then we're off to the Qingdao Olympic Sailing Center (mother of all photo ops!)
"So hot!" one of the staff members sighs after giving his glamorous guests a seaside tour.