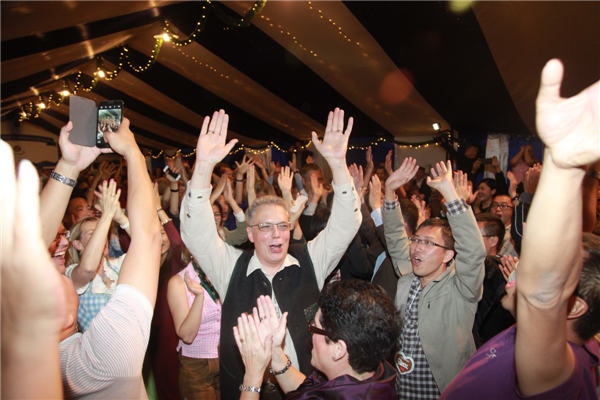 Expats and Chinese celebrate a beery tradition. Photo provided to China Daily
Seafood, not sauerkraut
The festival's ties to the port city's identity are based on the century-old brew Tsingtao - the Germanization of the city now known again as Qingdao.
"It's like Oktoberfest, but with great seafood instead of schweinbraten and sauerkraut," says Allie, a perky Chinese undergraduate who is working as our tour guide at the Tsingtao beer plant and museum. Her accent is spot-on British, borderline posh; the background music is not cheesy oom-pah-pah but Beethoven's Moonlight Sonata.
The brewery tour is a must-do for festivalgoers - there's a tasting room at the end and some cool history on the way. Drunk or sober, you can get your picture taken and then printed on the label of a souvenir beer bottle.
Allie breezes through German folk sayings about beer, chats about the German who made the brewery's first beer and the Dane who made its first yeast - which is propagated over and over so that the great-great-great grandchildren of those yeast spores go to work to make Tsingtao today.
"Taste this!" she says, sprinkling a small heap of cereal into the open hands of her charges. "That's the malt - it's Australian.
"That stuff that looks burnt," she says, pointing to a tub of malt that's much darker, "is roasted longer to make dark beer." She scoops out more samples. "It tastes rather like coffee," she says, adding that during periods of war those roasted cereals were in fact used to make a coffee substitute in Europe.
Tsingtao was launched in 1903, when the Germans occupied the city with 6,000 troops after two missionaries were killed. The incomers "rented" the city, signing a 99-year lease, though they would abandon it in 1916 as World War I - and a Japanese invasion - began. During their time, the Germans made two kinds of beer: Pilsner Light and Munich Dark, producing a total of 2 metric tons.
Today the brewery makes 3.8 million tons for international markets as well as domestic ones," Allie says, noting that the malt is from Australia, the water is from local Laoshan springs and the hops come from China's western Gansu province and the Xinjiang Uygur autonomous region. Besides the malt, Tsingtao's various brand labels are also brewed with rice - 35 percent - to cater to Asian tastes.