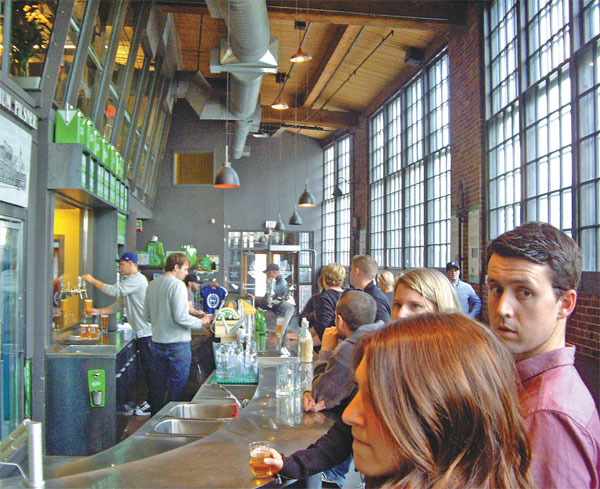 Visitors have fun at the pub of Steam Whistle Brewing, which has been ensconced in the Canadian Pacific Railway John Street Roundhouse, originally built in 1929. Photos by Rebecca Lo / For China Daily
Toronto's microbreweries have a proud tradition of making beer in small batches according to European traditions. Rebecca Lo tours and samples some in between exploring the Canadian city's latest attractions. 
With no disrespect to the many award-winning wineries along the Niagara peninsula, I have to confess that I'd rather drink beer when in Ontario. There is something just so intrinsically Canadian about cheering on the Blue Jays or the Maple Leafs with an ice-cold one. Ontario's hearty fare goes well with beer, whether that means a no-frills burger or dishes in fine dining establishments. It is the beverage of choice for barbeques, club hopping or hanging out with friends.
It also helps that Canadian microbreweries offer some of the best beverages this side of Bavaria. For decades, Canada's beer industry was dominated by the big three: Molson, Labatt and Carling. Then, in the late '80s, microbreweries began exploding upon the scene with carefully crafted, unpasteurized beer geared toward connoisseurs who don't mind paying a premium for premium products.
Some, such as Sleeman and Upper Canada, have subsequently been purchased by larger breweries while others remain determinedly independent. What I love about Ontario microbreweries is how accessible and friendly they are to the general public. That "aw shucks" demeanor makes for fun tour guides, and many microbreweries offer daily tours of their facilities to anyone interested in checking out how beer is made. The tours naturally include samples - often during the course of the tour itself.
I began my sudsy sojourn at Steam Whistle Brewing. Since 2000, Steam Whistle has been ensconced in the Canadian Pacific Railway John Street Roundhouse, originally built in 1929. The three founders, Greg Taylor, Cam Heaps and Greg Cromwell, were all famously fired from Upper Canada and originally intended to name their company "three fired guys brewing". One of the tour's highlights was how 3FG is embossed upon every one of Steam Whistle's beer bottles as an inside joke.