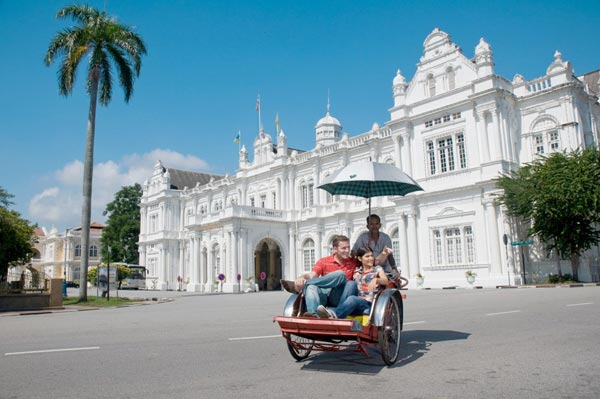 Penang 4-day Tour offers visitors the chance to taste a bunch of Penang local delicacies.Photo provided to chinadaily.com.cn.
The Malaysia Tourism Promotion Board has launched the "Visit Malaysia Year 2014" campaign and invites the world to explore the country, with exciting celebrations planned throughout the year.
Highlights include the Formula 1 Petronas Malaysian Grand Prix in March, Rainforest World Music Festival in Sarawak in May, "Magic of the Night" Parade in Kuala Lumpur in June and Mountain Kinabalu International Climbathon in October. The proboscis monkey, better known as the long-nose monkey, serves as the VMY 2014's mascot. The monkey is listed as an endangered animal on the Red List of Threatened Species of the International Union for Conservation of Nature. The use of the proboscis monkey is believed to instill a new spirit and interest among tourists to appreciate the gift of nature as a national tourism asset, and promote Malaysia's nature and wildlife conservatory initiatives through tourism, in line with the global aspiration of responsible and green tourism.
Malaysia was ranked among the top 10 destinations to visit in 2014 by Lonely Planet. Malaysia has long been popular among Chinese visitors. According to Baizuri Baharum, director of the board's Hong Kong office, more than 1.4 million tourists from the Chinese mainland, Hong Kong and Macao visited the country in the first nine months of 2013, a rise of 22.6 percent compared to the same period in 2012.
"We are expecting 2 million visitors from these three regions this year," she said. The board's Hong Kong office has introduced "HKD2014 Tours" which offer four special discount tour packages in cooperation with local travel agents. Each trip features a four-day, three-night vacation to the tourist spots of Penang, Langkawi, Johor Bahru and Sandakan, at a fixed price of HK$2,014 ($260).