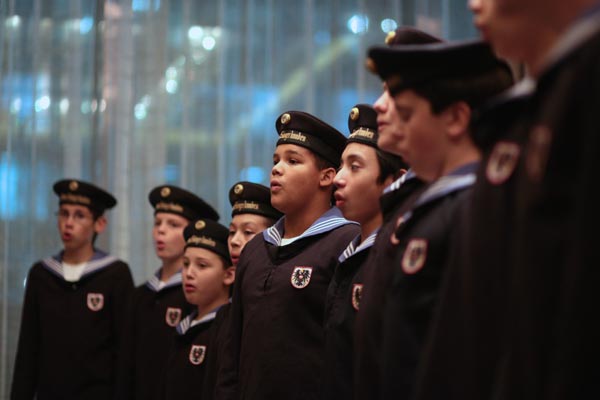 Vienna Boys Choir rehearsing before performance. Photo provided to chinadaily.com.cn
The Vienna Boys Choir, a troupe of angelic voices with a 500-year history that has become synonymous with the nation of Austria, will perform at Beijing's National Center for the Performing Arts on Oct 14 at 7:30 pm. That follows a concert at a special event at the Kerry Hotel in the capital on Monday night.
The complete choir includes about 100 trebles and altos between the ages of 10 and 14 based in Vienna– most from Austria but also from many other countries. That group is divided into four touring choirs, which perform about 300 concerts each year.
The Vienna Boys Choir has performed in China several times before, including a recent appearance on CCTV with a Chinese youth choir. The current tour has already included stops in Hong Kong, Shanghai and Tianjin. After Beijing, the Vienna Boys Choir will perform at concert halls in Xi'an(Oct 30), Chongqing (Nov 1), Chengdu (Nov 2), Kunming (Nov 4) and Guangzhou (Nov 7). There will also be a hotel performance at the Shangri-la Guangzhou on Nov 9.