Thirst for a heady beverage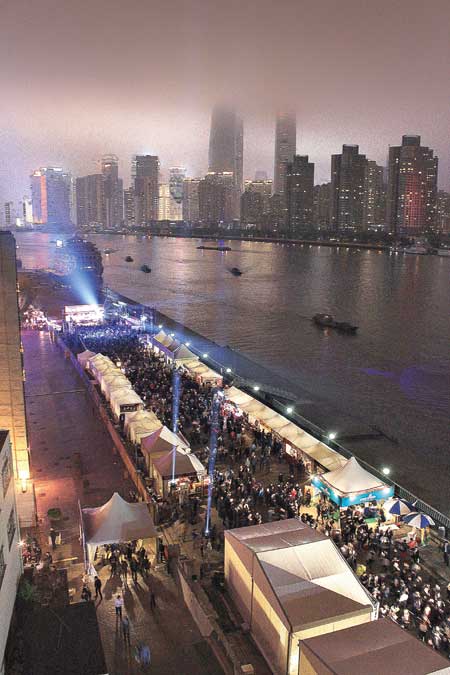 Shanghai International Beer Festival (SIBF) is expected to see 40,000 people attend its fourth event, which kicks off on Oct 30 on the bund. [Photo provided to Shanghai Star]
China is thirsty, and the world's best brewers are flocking to the country to help quench that thirst. Belle Taylor talks to brewers, tipplers and pub-owners on what makes the beer scene here so special.
When brewer Leon Mickelson first arrived in Shanghai in 2010, he was excited to take on a job making beer in a country that drinks more of the brew than anywhere else in the world. Having worked in the beer-loving nations of New Zealand, Australia and the United Kingdom, Mickelson knew a bit about places with a thirst for the tipple, but he soon found the market in China was unlike any other.
"The Chinese beer market is the largest in the world by a long shot and the craft beer scene was almost non-existent," says Mickelson, who moved to Shanghai take on the role of brew master at The Brew, at the Kerry Hotel in Pudong.
Mickelson found himself at the cusp of a rapidly changing Shanghai beer market, which in the past five years has shifted from being almost completely dominated by a few major domestic beverage companies, to become home to a slew of innovative microbreweries and a thriving import market for beers from the United States to Scotland.
China is the biggest consumer of beer, guzzling down about 25 percent of the total global supply, according to market researcher Plato Logic. Almost all this beer is lager — light, yellow, fizzy and brewed by beer giants, Snow Beer, Tsingtao, Harbin and Yanjing among others.
But in recent years, beer drinkers in Shanghai have suddenly been presented with a range of new options.
Drinkers can now enjoy a pint from The Brew, Boxing Cat Brewery, Dr Beer and Shanghai Brewery to name just a few.
Beer imports have also exploded. In 2009, 40,502 kiloliters of beer was imported into the country, last year that figure had grown to 182,271 kiloliters, according to the General Administration of Customs.
While the overall market percentage of these craft beers remains very small, the rate of their growth has been rapid, pointing to a huge thirst among Chinese drinkers, for new and exciting beverages.
"We were the first company to introduce craft beer to the China market," says Deane Lin, managing director of beer importer DXCEL.
"We started with four pallets in our first year, 2008. That translates to about a couple of hundred cartons. Six years on, we do 80 containers a year.
"Consumers are more and more eager to explore different types of beer from different countries." Despite the rapid growth, Lin says China "is in the very early stages when it comes to understanding beer."
Marketing and education, says Lin, is key. He says while there might be lots of fantastic beers available, if they are not correctly presented to the Chinese market they will struggle in the long term.