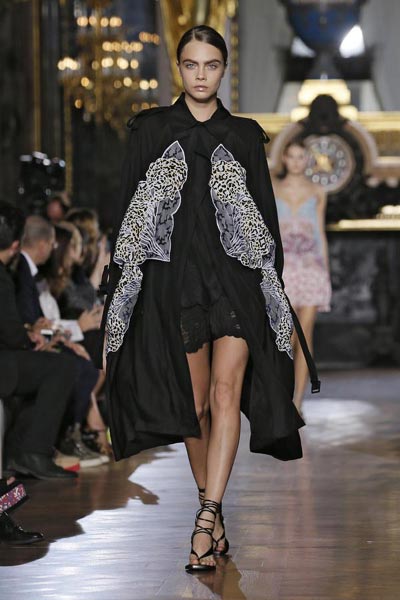 Model Cara Delevingne presents a creation by British designer Stella McCartney as part of her Spring/Summer 2015 women's ready-to-wear collection during Paris Fashion Week September 29, 2014.[Photo/Agencies]
Oblong cut-outs, oversized buckles and a utilitarian aesthetic were the defining features of Stella McCartney's 2015 summer collection in Paris on Monday.
The British designer's pledge to offer clothes with "effortless movement and a fluid silhouette," translated into drop-waist sailor trousers, jumpsuits in airy parachute silk and dresses that fell to mid-shin.
McCartney's show at the opulent Opera Garnier in Paris on week two of the Paris fashion shows drew somewhat restrained applause, contrasting with a frenzy across town as Karl Lagerfeld fans raced to snap up a limited edition of the Lagerfeld Barbie, a miniature of the pony-tailed German designer.
Complete with high starched collar, fingerless black gloves and, of course, jet black sunglasses, the 900 dolls on sale at 200 euros ($254) apiece, and made by Barbie doll-creator Mattel, were sold out within minutes at Karl Lagerfeld stores and special boutiques.
Lagerfeld - whose fluffy white cat Choupette was the star of a hardback book released last week - presents his collection for Chanel on Tuesday.
At McCartney, bold buckles dominated some of the dresses, either as straps at the shoulder or ornaments on the pocket, giving a harder edge to outfits in various shades of white and creme.
Cutaway side paneling and asymmetrical cut-outs on hems and bodices may be surefire ways to beat the summer heat, but a butter-colored knit dress that completely exposed the model's hips may be too revealing for even the most gutsy women in the real world.
For evening, McCartney opted for airy organza dresses in contrasting patterns and prints. Eclectic indeed, from coral and leopard to Japanese-inspired blue and white ocean wave patterns, interspersed by windows of transparent silk.
Much more constructed was Givenchy's collection on Sunday night, a black and white extravaganza with an unapologetic sexy, hard edge.
The signature look from Givenchy creative director Riccardo Tisci was a white and black bolero, reinforced throughout with shiny eyelets and black stitching.
Paired with tight black leather pants, a knee-length black and white coat with a circular pattern on top and stripes below recalled the black-and-white work of Italian artist Fornasetti.
Laced-up tops, cut like the bodice of a traditional Bavarian dirndl dress, and skintight long-sleeved tops with black lacing that exposed the skin underneath imparted a hint of bondage chic.