Jewelry for dreaming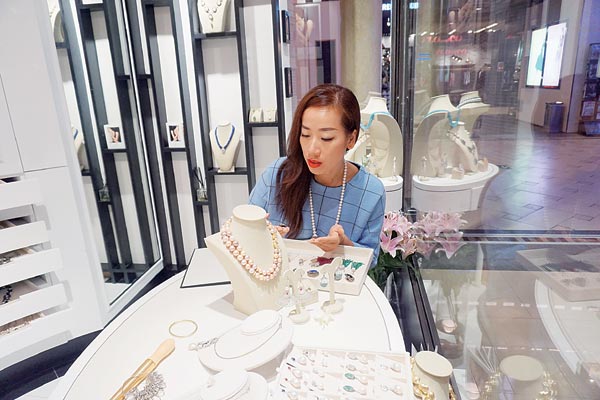 Gemstones and pearls: It took eight years of hard work for Vivian Shen, 34, to realize her dream of becoming a successful designer. Photos provided to Shanghai Star
Having quit a stable job, Vivian Shen was making a huge leap when she decided to establish her own accessories brand eight years ago. She tells Yu Ran why she put it all on the line.
Seeing elegant ladies wearing her handmade jewelry is a dream come true for Vivian Shen.
Eight years ago, at the age of 26, Shen quit a well-paid job as a buyer to follow her dream to develop her own brand. It's been a long road to prove that she made the right decision.
"I was tired of flying around as a workaholic buyer, losing my passion for design," Shen says. "I chose to quit my seemingly promising career and instead started chasing my dream to be an accessories designer," she says.
Born and raised in Shanghai, Shen married a Spanish man and has spent over five years living in Europe. Her label, which bares her name, mixes Chinese aesthetics with a European touch, revealing a unique vision and eye for fashion.
Vivian Shen, the label, is targeted at female customers between the ages of 25 and 45. The designs are simple, and are inspired by nature. The label's main design principle is to maintain loyalty to the natural objects that inspire it.
"I am fond of combining traditional Chinese elements such as natural pearls with Western gemstones like agate and zircon to create unique statement accessories for my clients," Shen says.
Shen struggled when she first started the label, and she was making less money than she was spending. But her firm belief in herself as a jewelry designer eventually paid dividends, as more customers came to know and love her work.
"The only thing that has encouraged me to keep going for so many years is my passion for design," Shen says.
Most jewelry designers are keen to help customers match their jewelry with gowns for formal occasions, but Shen wants her bold accessories to be incorporated into daily wardrobes.
Customers are welcome to visit her in the shop to chat about what they want to wear and what they should match it with. Shen is delighted to work as a private accessory consultant for everyone.