Li Bingbing fights to protect endangered animals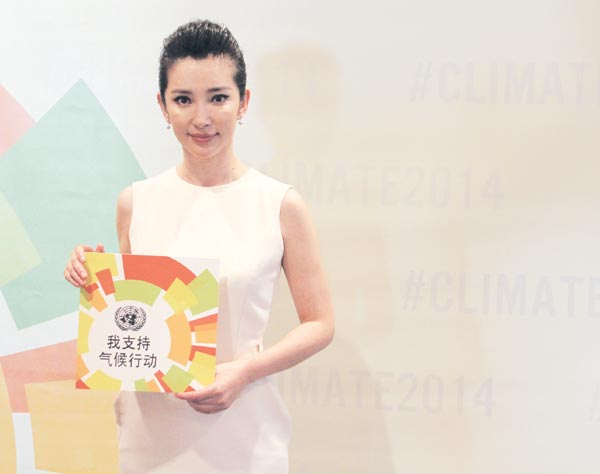 Li Bingbing, who was born in a small town in Northeast China's Heilongjiang province, has helped launch several campaigns with the UN and by herself in China. Hu Haidan / China Daily
A Chinese star uses her rising global profile to fight for endangered animals, Zhang Yuwei reports in New York.
Li Bingbing is one of the most popular superstars in China, but the actress in the latest Transformers film likes to speak humbly of her roots - which, she says, have given her a strong awareness about nature and the environment.
"I was born in a small town in Heilongjiang, where my life then was very simple and everyone around me was very thrifty," Li says.
Wuchang, Li's hometown, is in a county in Harbin of Northeast China.
Much media focus has been on how this small-town girl rose to become one of China's best-known stars, who recently made her name in Hollywood by playing alongside Mark Wahlberg in Transformers: Age of Extinction.
Li appreciates her small town, not so much in contrast with where she is today but because of the influence of the place and its people. It's a love of nature and the environment, she says.
"I would feel guilty to waste anything; it's just a habit which has helped form my awareness of environmental protection," says Li. "That awareness has been in my DNA since I was young."