Chinese actress Gong Li deems Golden Horse Award as 'unfair'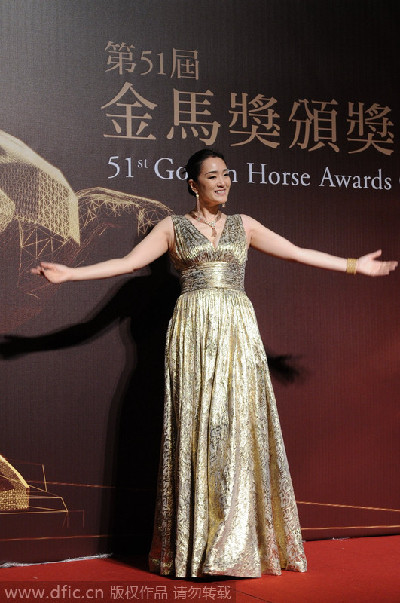 Actress Gong Li poses as she arrives on the red carpet for the 51st Golden Horse Awards Ceremony in Taipei, Taiwan, November 22, 2014.[Photo/IC]
The 51st Golden Horse Awards, one of the most prestigious film honors in the Chinese-speaking world, were held in Taipei, China's Taiwan province on Nov 22.
Chinese actress Gong Li, who had high hopes of winning the award for Best Actress with her film Coming Home, went home empty handed, and furious.
According to Guangzhou Daily, the displeased actress released a statement via her spokesman yesterday.
"I would especially like to thank the Golden Horse Awards for giving me this opportunity to understand how an unprofessional film festival is run. An unfair film festival will be looked down upon by all artists," the statement said.
Many reviewers praised Gong's role in director Zhang Yimou's Coming Home as one of her best performances in recent years, pushing Gong into the pool of the hottest candidates for a Best Actress award.
The award went to actress Chen Shiang-chyi instead. Gong lost to Chen by only one vote.
The actress did not take the results so well.
"I like Taiwan and I will continue to visit Taiwan in the future, but I will not come to this festival any more. It's meaningless.
"This is my first time at the Golden Horse. It is also my last time."
Zeng Jingchao, Gong's manager, said that Gong has always speaks her mind and that her comments were not solely targeted at the Best Actress award. Instead, she was not satisfied with the results as a whole.
Zeng also stressed that Gong had a great time during this trip, and that she will continue to visit Taiwan to travel and promote her films, but will not attend the Golden Horse Awards any more.