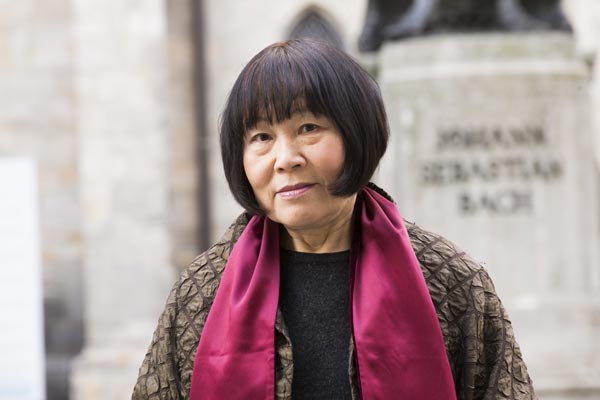 Zhu Xiaomei, pianist. Photo provided to China Daily
Famed pianist Zhu Xiaomei was livid with ticket scalpers on her way to the Shanghai Symphony Hall. Unaware of who she was, they were trying to make her pay for admission to one of her own concerts-at inflated prices, of course.
After more than 30 years of living in Western countries, Zhu, 65, returned to China for her first musical tour earlier this month. Her shows on Nov 9 and 13 in Shanghai were sold out.
"How could they turn my music into a tool for improper profit?" the Paris-based musician asked during her interactions with the media after a concert last week.
Her tour program consists of just one piece of music: Bach's Goldberg Variations, a non-stop 70-minute composition. So far, Zhu has played in Hong Kong, Beijing, Shanghai and Ji'nan city in Shandong province. On Nov 19, she will present a concert in Chengdu, Sichuan province, and another in Guangzhou, Guangdong province, on Nov 21, before heading back to France.
Zhu has played Goldberg Variations for more than 25 years. The piece, composed by Bach, was named after Johann Gottlieb Goldberg, who is considered to be its first performer. Viewed as one of Bach's major works, Goldberg Variations consists of an aria and a set of 30 variations.
"I often say that the CD should be sold in a drug store rather than a music shop," Zhu says of the piece. "It brings you balance, peace and happiness, rather than putting you off to sleep."
Zhu shot to fame late, presenting her debut concert in Paris in 1994, when she was 45.
Critics compared her interpretation of Goldberg Variations to master musicians such as Glen Gould and Konstantin Lifschitz. "She has a complete grasp of the music, knowing where everything belongs, and a willingness to play it straightforward instead of overemphasizing anything ... she plays phrases, not notes," Bradley Lehman, an American harpsichordist and music professor, wrote about Zhu's recording of Goldberg.
"I have listened to all the Goldberg recordings, but still I wanted to record an edition of my own," Zhu says. "Bach has spiritual power that transcends religion or race. I am Chinese, and I believed that my interpretation will have some meaning."
Zhu says: "People said that nobody would buy your recording, 'you aren't famous or anything'. But I still wanted to do it, even if I had to borrow money from the bank."
A decade later, audiences are seen lining up for hours after her concerts to buy CDs and wait for her to sign autographs.