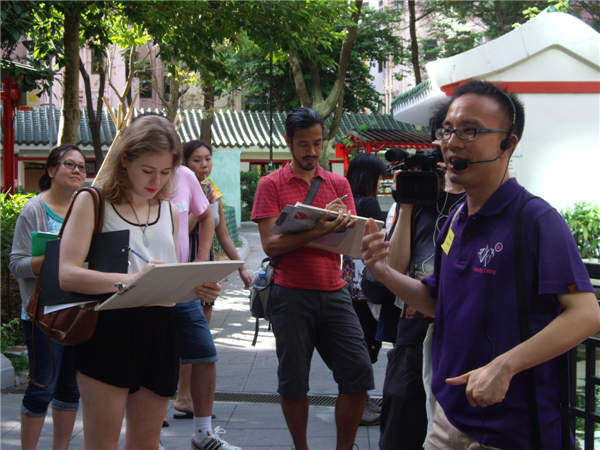 Haider Kikabhoy talks about the trip as participants sketch. Rebecca Lo/China Daily
On a sunny and sweltering afternoon in July, about 60 people took to the streets of Hong Kong to flex their creative muscles.
Armed with pencils and sketchpads, we visited some of the city's oldest landmarks and learned how the marriage of British rule and Chinese traditions yielded results that can be peeled back to reveal successive layers.
It was the first collaboration between Walkin Hong Kong and Draw Together Hong Kong, two grassroots organizations aimed at giving both locals and tourists a more in-depth view of the city. While Walkin specializes in well-researched local walking tours based on geography or themes such as cemeteries and Chinese festivals, Draw Together uses drawing as the starting point for discussion and community-building.
The event was part of Asia Art Archives' new initiative Open Saturday, a full-day program of activities that explores art as a method of inquiry. Through collaborators from different walks of life, the activity becomes a platform for local residents to explore different ideas.
Its first Open Saturday, held on July 5, was entitled Drawing on Histories. Participants and collaborators were invited to question the concept of a single authoritative and omnipotent voice for local history. Instead, people explored how layers are built with different meanings attached through the practice of drawing and illustration.
Along with Walkin and Draw Together, other collaborators include MCCM Creations and Incubator for Film & Visual Media in Asia. The activities offered were available for free on a pre-registered basis.