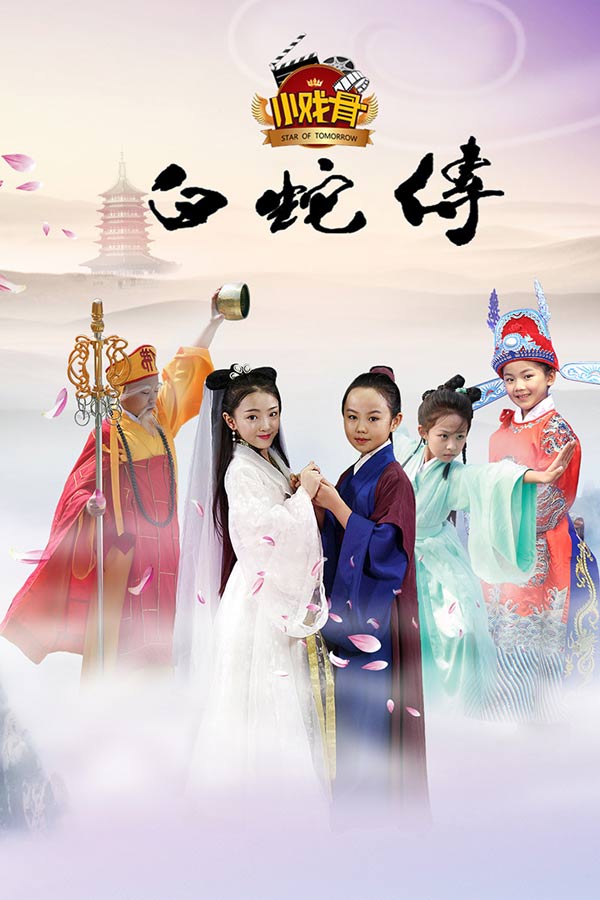 A still of the children's version of Lady White Snake. [Photo/Weibo]
Reshooting TV series has been a common topic in China in recent years. Overshadowed by the glamour of original TV productions, new versions of classic works, more often than not, have had audiences complaining about nonsensical plot points, poor acting skills and ubiquitous embedded marketing.
A case in point is the never-ending reshooting of Lady White Snake, also known as the Legend of the White Snake, which mainly tells the love story between the White-Snake-turned Bai Suzhen, and Xu Xian.
During the past two decades, new versions have constantly emerged. With the help of state-of-the art technology and good-looking performers, the updated Lady White Snake has indeed offered a visual feast to audiences. But when it comes to love from the public, no version can hold a candle to the original.
The legend was first adapted into a TV series in 1992 and performed by Hong Kong actresses Angie Chiu and Cecilia Yip. The Taiwan-produced TV shows achieved huge success, leading to the constant reruns by domestic TV stations every year until now.
But this time, a group of young post-00s artists seem to receive more praises than doubts and criticism.
"They are just incredible. When I see the little Xu Xian crying for the loss of Bai Suzhen, my heart broke," said Weibo user Xraindays.
"Those so-called little-fresh-meat actors charging so much for their performances should really examine themselves. Look at these children, they are not second to anyone," another Weibo user Quiesrter added.
The children's version of Lady White Snake was produced by a program called Xiao Xigu, which literally means small artists in English, and features children in the roles of classic characters from Chinese literature and folklore.
Embracing the idea of "Learning from Classics, Acting in Practice", the program Xiao Xigu was released at the TV Play Channel of Hunan Satellite TV in October, 2015.
Promoting Traditional Culture
According to Pan Liping, general director of Xiao Xigu, all the performers are selected within an age range between 6 and 12 years old.
"Enhancing children's interest in traditional Chinese culture and letting young artists set an example for a majority of children are the original intentions of setting up the program," said Pan.
"We always say that art must not be a slave to the market but few people actually do it. Instead of fighting for high audience ratings, we avoid devoting big budgets and inviting renowned child stars. All we want is to inherit and promote the essence of our culture and make more people truly appreciate them from the bottom of their hearts," added Pan.
Meng Yu, the Chinese actress who starred in The White-haired Girl, said, "Nowadays, it is a pity to see many children are totally addicted to pop culture and ignore our fine traditions. And children at this stage are accepters not makers. Xiao Xigu, to some extent, shoulders the responsibility of passing on fine traditional culture to children."