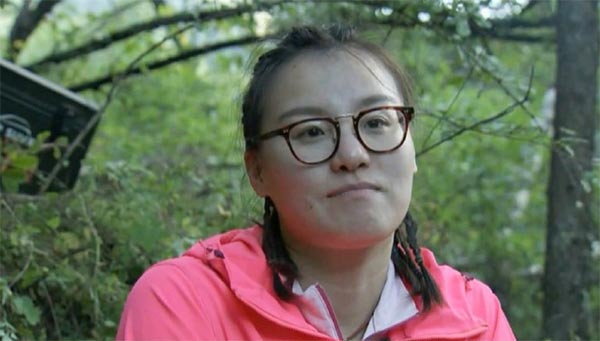 Swimmer Fu Yuanhui during a filming session of Running Wild. [Photo/Sina Weibo]
Chinese swimmer-turned-Internet star Fu Yuanhui chewed up uncooked snake and faced other challenges in Bear Grylls' outdoor-adventure show
Running Wild
.
Fu joined Baidu founder and CEO Robin Li and football player Fan Zhiyi to feature in a program produced in Aba (also translated as Ngawa) and Qiang autonomous prefecture, Sichuan province.
Fu became famous for her vow to use "prehistoric powers" while competing in the 2016 Olympic Games and for her exaggerated facial expressions that have been made into emojis by Internet users. She said she had an impressive adventure with Grylls in the remote region.
"I ate something strange and did something very cool," she wrote on her Twitter-like Weibo social media account. "I feel satisfied with myself."
Even though Fu said she enjoyed the blue sky, the medal winner felt nervous when standing on a single plank bridge that crossed a torrential river and also the "dinner" served by Grylls -- a snake.
Robin Li was served raw yak meat while Fan had live marmots.
Fan also experienced flying around a lake with Grylls about 50 meters above the water while hanging from a helicopter.
Related: