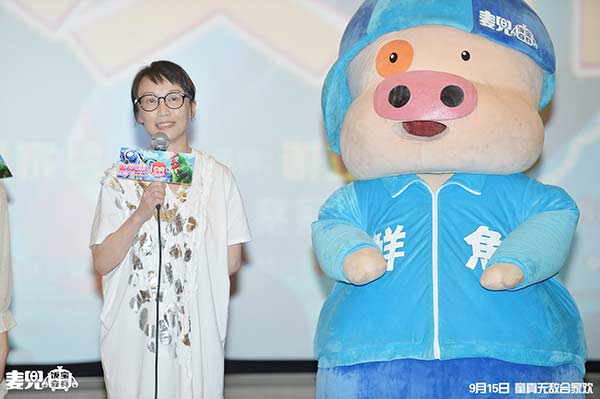 Alice Makone, one of the co-creators of McDull, promotes the movie in Beijing on Thursday. [Photo provided to China Daily]
McDull, Rise of the Rice Cooker, the seventh movie of the animated McDull franchise, will hold a nationwide test screening between Sept 10 and 11.
Known for his struggles and strives, the protagonist, piggy McDull, realizes his dream of becoming a hero in the new tale: An alien monster invades the Earth but is stopped by a giant robot invented by McDull.
Unlike most alien invasion-themed sci-fi movies that revolve on the fierce combats, the new McDull movie continues its landmark style to tell a heartwarming, humorous story. In the end, the monster is touched by the robot and gives up its invasion in the Earth.
The movie, set to premiere on Sept 15, will rival against more than 10 films for the Mid-Autumn Festival.
Alice Mak, one of the co-creators of McDull, showed up in Beijing on Thursday to promote the movie.
She said some 3-D scenarios are added to the new movie.
"The movie wants to send a messenger to remind audiences to love their family and the others. The theme is what McDull franchise has insisted for 20 years," said Mak.