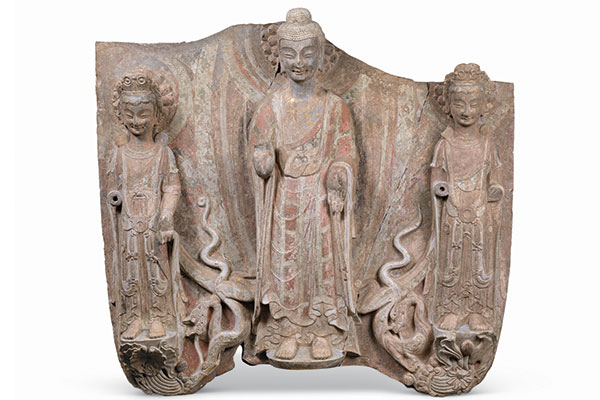 Buddhist relics unearthed in Qingzhou, Shandong province, were among the country's top 10 archaeological discoveries in 1996.[Photo provided to China Daily]
Relics from the Longxing Temple in East China are exhibited in Beijing ahead of the World Congress of Art History, Lin Qi reports.
Two decades ago, construction workers discovered a cache while digging a foundation for a school in Qingzhou city in East China's Shandong province. Then, archaeologists found it belonged to a relic site of the Longxing Temple that was built around the fifth century and demolished some 800 years later.
The archaeologists were surprised to find that an art trove had survived underground for centuries. They unearthed several hundred Buddhist images that were made of various materials and traced back from the Northern Wei (AD 386-534) to the Northern Song (960-1127) dynasties.
The richness of Qingzhou's storage pit of Buddhist statues shocked the country, too. The discovery was ranked among the top 10 archaeological findings of 1996 in an annual, nationwide evaluation backed by the State Administration of Cultural Heritage since 1990.
Since the discovery, the statues have been widely exhibited, delighting audiences at home and abroad, and information on them has been included in many textbooks on art history.
Now 50 sculptures from the Qingzhou cellar are on display at the Central Academy of Fine Arts, as part of a special exhibition for the 34th World Congress of Art History, held in Beijing from Friday to Sept 20. Visitors are bound to be overwhelmed by the statues' smiles as well as their clothes.