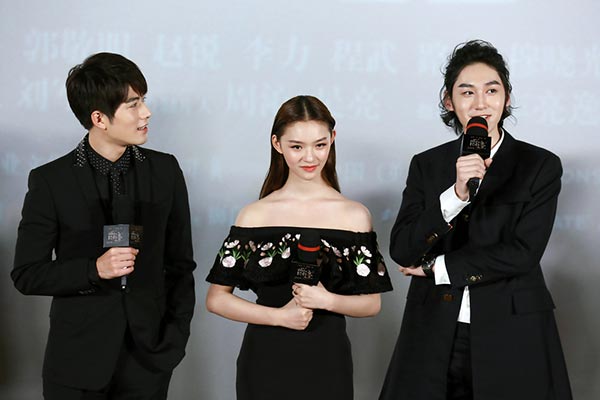 L.O.R.D: Legend of Ravaging Dynasties' cast members (from left to right) Chen Xuedong, Lin Yun and Wang Duo attend a Beijing media event. [Photo provided to China Daily]
Last Thursday, hundreds of fans were anxiously waiting to get into a media event of
L.O.R.D: Legend of Ravaging Dynasties
in Beijing. But their enthusiasm seemed to wane after the upcoming fantasy film's latest trailer was screened at the Wanda CBD cinema.
There was scattered applause at first. But the screams came only when the star-studded cast appeared onstage.
Its makers say the film, which depicts a fictional wonderland, is an unprecedented Chinese-language title when it comes to computer-generated imagery, as all the sets and characters are the result of digital technology.
Guo Jingming, director and writer of the namesake novel on which the film is based, says the big-budget movie has used motion-capture technology to record facial expressions and moves, which are then converted into virtual images on screen.
When the movie's first trailer was released more than two months ago, it caused a controversy: It was criticized for looking like a videogame or an animated film.
The second trailer, which was screened at the event, however, seems better, with the moves looking a lot less rigid and fake.
In China's booming movie market, the number of such ambitious fantasy productions that stumble in the visual-effects game is not insignificant.