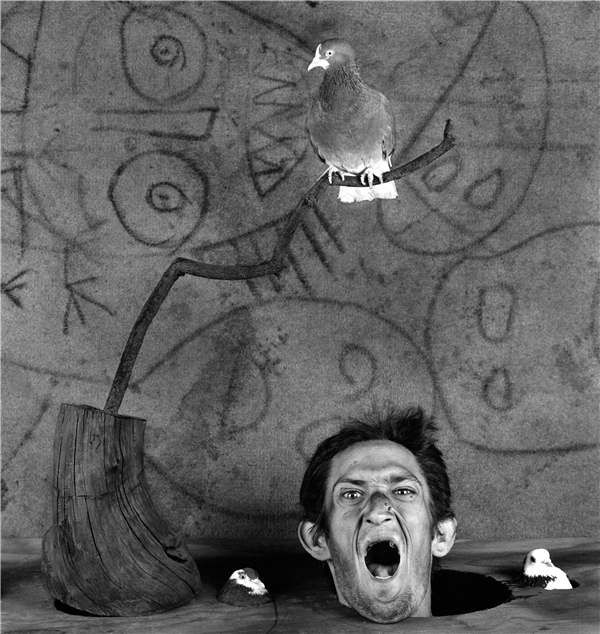 Scream, a photo by Ballen. Photos provided to China Daily
Roger Ballen presents life's absurdities through black-and-white images in Beijing, Deng Zhangyu reports.
American photographer Roger Ballen's distinctive style of black-and-white images are mostly described as "weird" by viewers because of the provocative themes.
People can now get a glimpse of his artistic works at an ongoing show in Beijing. The exhibition hall of the art museum at the Central Academy of Fine Arts has been transformed into a gray-colored theater-like area. Ballen's photos are either suspended in the air or mounted on tilted wooden frames, some as high as 4 meters.
To echo the show's title, Theater of the Absurd, Ballen has decorated a part of the area in the style of his pictures. Other than putting up his photos on the walls, he has painted the walls in parts, too, and has installed animal sculptures on the floor. There are chairs for visitors as well.
"It's great! There are few times in my lifetime that things have been so interesting," the 66-year-old photographer says about his first show in Beijing.
Every year, Ballen holds shows in different cities across the world. But he calls the Beijing show "unique" as it tries to explore a more interactive space with the audience.
Fan Di'an, president of the Central Academy of Fine Arts, says: "When I walk into the show space, I am both a visitor and an actor of the 'theater'."
Ballen's works are a mix of drawings, installations and photography. His square photos always include wires, animals, discarded stuff and graffiti on walls, bearing a distinctive aesthetic.