Cao Fei is driven to create a masterpiece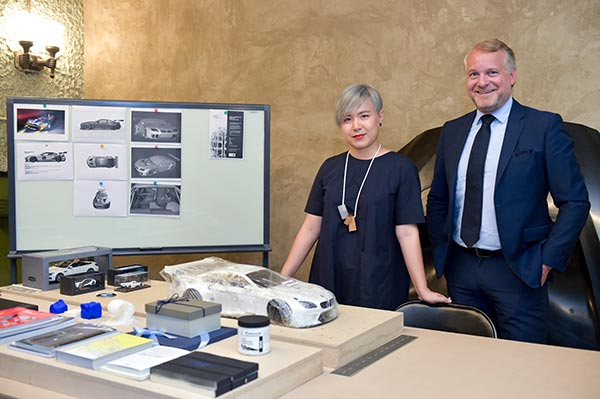 Artist Cao Fei with Thomas Girst, head of BMW's Cultural Engagement. The Chinese artist will collaborate with BMW to create an art car, which will be released in 2017. [Photo provided to China Daily]
A leading young artist in China, Cao Fei, does not own a car or have a driving license, and she does not have plans to learn how to drive either.
But this has not stopped her from accepting the offer to create an art car for BMW.
The artist, in collaboration with BMW, recently announced their plan to create a BMW Art Car, which will be released in 2017.
Based on the BMW M6 GT3 performance car, the art car will showcase the future of transportation with an emphasis on going driverless, the smart internet and virtual reality.
This will be the first BMW Art Car created by a Chinese artist and 18th of its kind.
Earlier participants include luminaries, such as Alexander Calder, Frank Stella and Roy Lichtenstein.
The art car styles include pop and conceptual art.
Speaking about her work, Cao, 38, says: "The car is key to understanding the changes in Chinese society today. The speed of the car coincides with how fast Chinese society is changing, which is my inspiration."
Cao's idea echoes BMW's vision about green transportation, smart internet and going driverless, says Thomas Girst, head of BMW's Cultural Engagement.