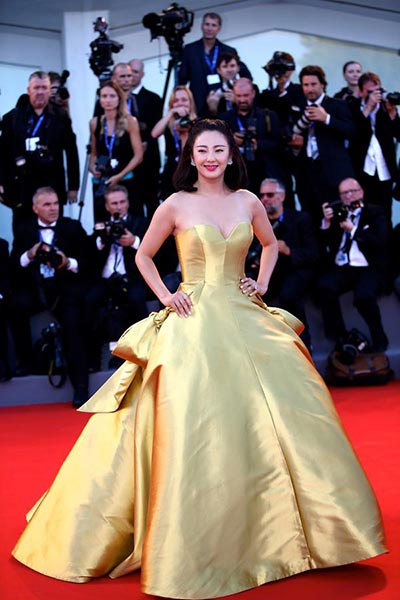 Actress Zhang Yuqi at the opening ceremony of Venice International Film Festival on Aug 31 in Venice, Italy. [Photo/Xinhua]
The third edition of the China Film Forum took place here at the 73rd Venice Film Festival on Friday, drawing many Chinese and Italian creative professionals of the film industry.
This year, the event especially focused on creative projects linking Europe and China, and on major challenges and opportunities for screenwriters, directors, and producers from both sides.
A wide panel addressed various issues under the theme "How to write in China and Italy", with Italian director and screenwriter Paolo Genovese appealing to both Italian and Chinese colleagues to "dare" in their own projects despite all difficulties.
Author of 10 movies overall, Genovese explained his two most successful films, "Perfect Strangers" in 2016 and "The Immature" in 2011, had also been the most arduous to carry out.
"If an author is truly sure about his project, he will eventually find people to produce his film, even if it deals with a sensitive topic," Genovese told the audience.
"A bigger problem (for Italy) might be reaching movie theaters, for lack of an available distributor."
Among guest speakers was Shu Huan, screenwriter of blockbusters "Lost in Thailand" and "Lost in Hong Kong", who addressed the current situation on China's market.
"The Chinese movie market has been very lively in latest days, and many capitals are flowing in it," Shu told the audience.
"At the same time, we are going through a sort of creativity crisis in terms of stories and scripts," he added.
Other Chinese professionals, such as "Go away Mr. Tumor" screenwriter Yuan Yuan, shared his view that more creative and qualified talents would be needed in China in order to benefit the most from all the financial resources pouring into the movie industry.
Current and future chances of co-operation between Italy and China were, of course, another topic discussed by the various guests.
"For a truly successful artistic cooperation, we need to get to know each other more and more, in terms of culture, language, sense of humour, and sensitive topics for our respective audiences," Italian director and screenwriter Francesco Bruni stressed.
As president of Italy's main audiovisual author association 100 autori, Bruni pledged more opportunities for discussion and views exchange among those people in Italy and China "who conceive cinema."
China seems attracted by Italy's creativity and long cinema tradition, some Italian filmmakers at the forum believe. Many of them are aware of the large opportunities the Chinese market could offer.
"Everything is possible in China, if you have the necessary resolution," director Cristiano Bortone said.
Bortone's movie "Coffee" was the first feature resulting from a co-production agreement Italy and China signed in 2014, and was going to be screened as special event at the Venice Days on Sept. 3.
Other efficient examples of artistic Sino-Italian collaboration were analysed at the forum, such as Italian director Sergio Basso's documentary "The Long March" and "He Hui: The Soprano of the Silk Road", co-produced by Agnese Fontana and Duan Peng.
Venice Days is an independent event that has been taking place alongside the Venice Film Festival since 2004, offering an informal framework to authors, filmmakers, and movie creative talents to exchange views and projects.
This third China Film Forum, which took place at the Villa degli Autori, represented a "centrepiece of Venice Days' International agenda," organizers said.
The event was arranged by Venice Days and Sino-European co-production network Bridging the Dragon along with Doc/it, with China Beijing TV Station (BTV) and Hua Huang as supporting partners.
Related:
Italy-China movie cooperation dominates talks among professionals in Venice