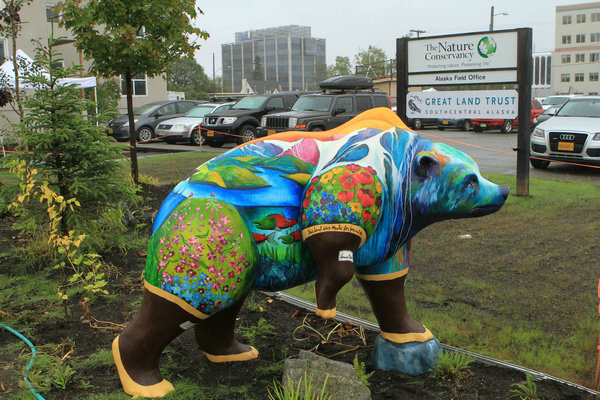 A life-size bear statue painted with natural scenes is part of a Bears on Parade display.[Photo/Agencies]
Alaska's largest city is home to more than 300 grizzly and black bears and now more than a dozen multicolored ones.
Life-size bear statues painted by city artists, part of Bears on Parade, are popping up as they're completed. They're part of a continuing effort to raise awareness that if you live in Anchorage, you live near bears.
"The whole point of this is to engage in conversation about bears and their habitat-the food that they eat, where they live," says Brenda Carlson, who helps organize the program.
Carlson is visitor-services director for Visit Anchorage, the city tourism marketing group. She's also a member of the state department of fish and game's Anchorage Bear Committee, dedicated to bear conservation in the municipality.
The city covers 5,071 square kilometers but people occupy only about 528 square kilometers, according to the department. The rest of the city includes national forest, a state wildlife refuge, 55 to 65 grizzlies and 250 to 350 black bears.
Bears can be deadly if they're surprised. To minimize maulings, the committee tries to educate people about how to live with bears.