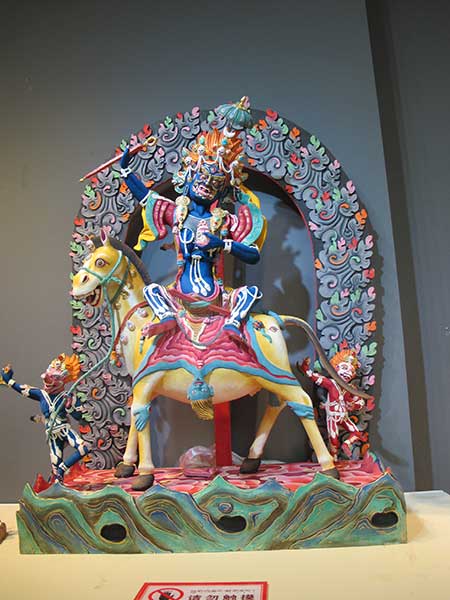 A statue of the female deity Palden Lhamo or Sridevi in the exhibition center.[Photo by Palden Nyima/chinadaily.com.cn]
An art exhibition featuring Buddhist statues and sculptures of historical Tibetan figures opened at the Tibet Folk Art Gallery in Lhasa, capital of the Tibet autonomous region, on Friday.
Hosted by the Tibet Cultural Department and the gallery, the five-day event will include exhibitions, displays, craft workshops, contest and forums.
"More than 100 artworks by some 50 artists were selected over a period of 20 days for the event," said Ngakwang Tenzin, deputy head of the gallery.
The 44-year-old added that the event had provided local artists with a stage to present their work, communicate with their audience and exchange ideas.
Nyima Gyalpo, 46, a well-known clay sculptor who was invited to the expo, said: "Seven of my clay statues have been chosen to be on show at the expo. I regard this event as an opportunity to learn from other artists, and I hope my skills will improve."
Norbu Dondrub, 35, is a coppersmith from Qamdo city in eastern Tibet, who specializes in Buddhist statues. He has been making them for almost 20 years.
"I am pleased to attend such an expo, more people will get to know about the culture, and I hope more people will pay attention to the art so it can be passed on," he said.
Besides local residents, the event had also proven to be a big draw for tourists and students alike.
"I have never attended such an event, and I am impressed by the Tibetan statues," said Yangdron, a Tibetan student.
Li Bochgen, a tourist who was visiting the area, said he was "astonished" by the exhibition, adding: "I am proud that China has such culture."