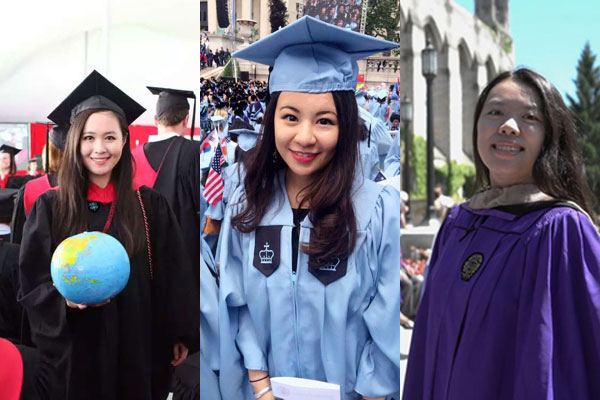 Xu Jiru (L), Kailey Xi(C), Guo Qun(R) respectively at their graduation ceremony. [Photos provided to chinadaily.com.cn]
She had graduated from one of the best universities in the world and at the age of 28 had a job offer from one of the best companies in the world. But she chucked it all and decided to come home. She is not alone. There are many like her and the number of talented people heading home is growing.
As part of new series, we are going to share stories of people who went to study abroad but instead of settling down overseas decided to return to China. We will take a look at why they are returning, the challenges they face and what their expectations are.
This is part one of their stories.
Who would turn down an offer from the leading consulting firm LEK's Chicago office, a rare opportunity for international students to make a way in the world's most developed market?
Guo Qun did.
What pulled back the 28-year-old, who graduated from the prestigious Northwest University this summer, was the mature working environment offered by Chinese metropolis like Shanghai.
"Salary is not a big matter for MBA graduates when they weigh their options. What decides is where we want to live and pursue personal development," she said.
She has decided to come back to work for her previous employer Boston Consulting Group (BCG)'s office in Shanghai with a promotion.
"I did think about accepting the offer to work in the US for a while. However, China is an important market for many multinationals seeking growth. And my knowledge and experiences are mostly about this market, where I believe my talents can be best used," said Guo.
Another returnee wooed back to Shanghai shares the same view.
"I believe China is more than a comfort zone for us. It's a grace zone," said Xu Jiru, 24, who graduated from John Kennedy School of Government at Harvard University this year.
"It's not to say we can't lead a successful life abroad. But we find it easy to position ourselves back home." She will be a lawyer at an American law firm's Shanghai representative office.
The two promising young women are among the ever-increasing number of Chinese who are choosing to return every year.
Last year, 409,100 students returned from abroad, up 12 percent on 2014, according to Ministry of Education.
Another notable trend, the ministry said, is that the ratio of those going abroad and those coming back has narrowed from 3.15 students going overseas in 2006 for every one that returned, to 1.28 for each returnee in 2015.