Hangzhou learns the language of summit success
The G20 Leaders Summit in Hangzhou, Zhejiang province, next month is attracting more students to learn English, according to a volunteer teacher in the city.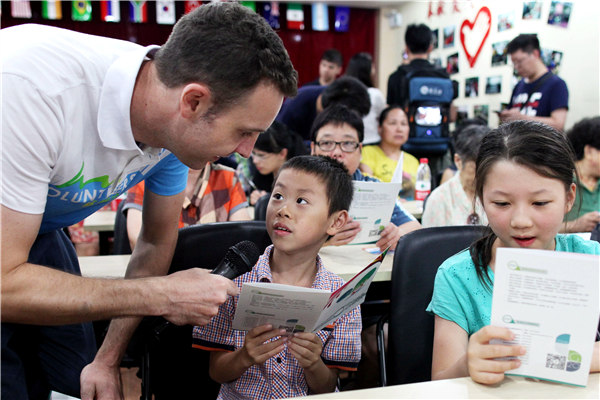 Timothy Clancy, an Australian student at Zhejiang University, teaches children English as he works as a volunteer for the upcoming G20 Summit in Hangzhou. Security rehearsals for the summit have been carried out between 11pm and 4am. ZHU XINGXIN / CHINA DAILY
Timothy Clancy, 31, an Australian who has lived in Hangzhou since 2011 with his wife, who is from Zhejiang, said, "Australia has hosted such a summit before, but I never imagined that people in the host city could be so hospitable.
"I want to be part of this great event through the English classes and express my own welcome."
Zhao Jihong, 67, one of the senior students in Clancy's class, said, "I am learning English here just in case I come across foreigners so that I can at least say 'hi' to welcome them to Hangzhou."
Zhao Yide, the Hangzhou Party chief, said, "Thanks to the consistent efforts made by the people of Hangzhou, preparatory work for the G20 Summit has been a success.
"All services, including dining, transportation and security are in place. Hangzhou is now ready to host the two-day summit and welcome its distinguished guests."
The summit will be held on Sept 4 and 5.
Non-G20 member countries such as Laos, Chad, Kazakhstan, Senegal and Egypt have confirmed that they will take part in the summit, according to the Chinese Ministry of Foreign Affairs.
Zhao said the participants will have the chance to taste Hangzhou cuisine. A 7,450-square-meter warehouse is being used to store up to 900 tons of food, and all the food and ingredients will be bought, examined, monitored, maintained and delivered through this huge building.
Up to 900 vehicles are ready to transport the G20 leaders and their delegations. In addition, more than 2,000 drivers will be on duty to meet the needs of summit participants.
Attention will focus on all the hotels accommodating G20 leaders, guests and the media, with security the top concern in the summit preparations.
Zhao said, "All the security rehearsals have been carried out between 11 pm and 4 am with advance notice, as we have tried our best not to disturb people's daily lives."
Hangzhou Mayor Zhang Hongming said: "All previous hosts of G20 summits paid a lot of attention to security, with troops and police fully prepared to guarantee this. Hangzhou is very confident of making the summit a safe event, and people are volunteering to be security guards."
A 760,000-member patrol group has been made up from local volunteers, according to Xinhua News Agency.
wang_ying@chinadaily.com.cn