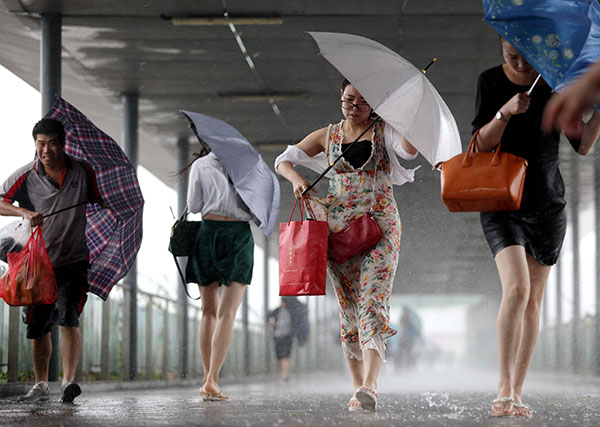 Pedestrians struggle against high winds near a subway station in Shenzhen as Typhoon Nida hits Guangdong province on Tuesday. JACKY ZHAO/CHINA DAILY
Streets flooded, trees uprooted as storm hits Guangdong province; flights, trains canceled
Typhoon Nida caused widespread damage to major cities in the Pearl River Delta of South China after making landfall on the Dapeng Peninsula in Shenzhen, Guangdong province, at about 3:30 am on Tuesday.
In Guangzhou and Shenzhen, many streets were flooded, trees were uprooted and billboards were blown down when Nida struck.
As the typhoon bore down on the region, construction sites in Guangzhou and Shenzhen were ordered to halt work on Tuesday and schools suspended classes to ensure the safety of workers and students.
In Guangzhou, more than 30,000 residents of low-lying areas had to be evacuated, according to a statement from the city government on Tuesday.
In Shenzhen, more than 16,000 families suffered from a power blackout after electrical facilities were damaged by the storm. "The storm and the gale were so strong that no one dared to go out for shopping on Tuesday morning," said Huang Hongyang, a resident of Guangzhou's Nansha district at the mouth of the Pearl River.
Air, water and land traffic were brought to a standstill in the Pearl River Delta.
At Guangzhou Baiyun International Airport, at least 430 flights-more than one-third of the scheduled flights-were canceled because of the storm. The airport, one of the major aviation hubs on the mainland, partly resumed operations after 4 pm on Tuesday.
Most of the canceled flights had been scheduled to take off between 8 am and 2 pm, according to the airport authority.
Additionally, airports in Shenzhen, Zhuhai and Huizhou canceled many flights due to the storms on Tuesday.
The Guangzhou Railway Group said it canceled 1,400 Guangdong train departures and arrivals and suspended Guangzhou-Kowloon train service on Tuesday.
Ferry service between the major Pearl River Delta cities and the neighboring Hong Kong and Macao special administrative regions were also canceled. Some highways in Guangdong were closed on Tuesday.
The cities of Guangzhou, Shenzhen, Dongguan and Huizhou were hit the hardest by Nida, the fourth typhoon to make landfall on the Chinese coast this year. Nida had weakened to a tropical storm and moved to the Guangxi Zhuang autonomous region by Tuesday evening.
Lu Shan, principal forecaster with the Guangdong Meteorological Department, said the Pearl River Delta region will continue to have heavy downpours on Wednesday.
"Relevant departments should not relax their vigilance to prevent possible flooding and landslides caused by the downpours," he said.
In Hong Kong, 12 people reportedly were injured during the typhoon on Tuesday. Two remained hospitalized, while the 10 others were released, authorities said.
Despite fallen trees and debris on streets across the city, residents lined up to get on buses or subways as public transportation gradually resumed service.
About 260 people sought assistance at the government's temporary shelters.
Additionally, about 500 flights to and from Hong Kong were affected by the storm.
Shadow Li in Hong Kong contributed to this story.