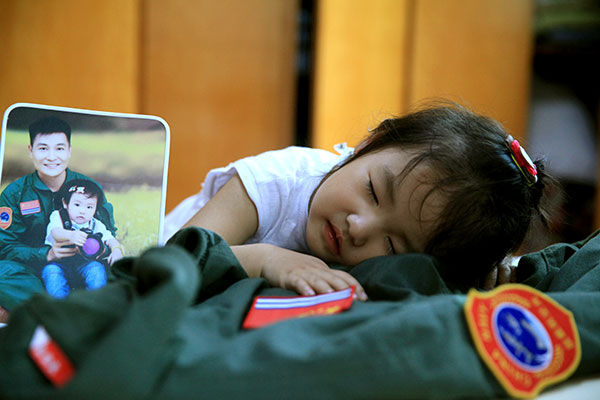 The daughter of PLA Navy pilot Zhang Chao sleeps on his uniform. Her father died after ejecting from his fighter plane when it malfunctioned during a training exercise in April. Provided to China Daily.
The widow of a PLA Navy pilot has made public letters she wrote on her WeChat account after the death of her husband, the first Chinese aircraft carrier pilot to die in the line of duty.
Zhang Ya, who married Navy pilot Zhang Chao in 2011, wrote of the happy times she spent with her husband.
She has also told of the unbearable pain caused by his death and how hard it has been for her to answer questions from their daughter.
The story of her husband, Zhang Chao, was broadcast by China Central Television in a prime time news program on Sunday and Monday, while other Chinese media also published reports about him.
Zhang Chao died on April 27, several days before he and other pilots were scheduled to conduct their first landing on the CNS Liaoning, the country's first and only aircraft carrier. According to the training plan, Zhang was to make seven takeoffs at a naval base before his first carrier landing, the Navy said.
The tragedy happened when Zhang was about to land his J-15 fighter jet on a runway at the carrier-borne aviation force's training base.
The plane went out of control due to a mechanical malfunction despite Zhang, a lieutenant commander, trying his best to save it. He was forced to eject from the aircraft at low altitude and died later from his injuries in a hospital after his parachute failed to open.
News of his death saw many Chinese internet users express their condolences,
A Sina Weibo micro-blogger using the name Shanghaichengyu wrote, "Please do not forget Zhang Chao when China has a strong carrier force."
Another user, PLAJia, wrote: "Every service member deserves to be called great. They sacrifice their youth and even their lives to safeguard us."