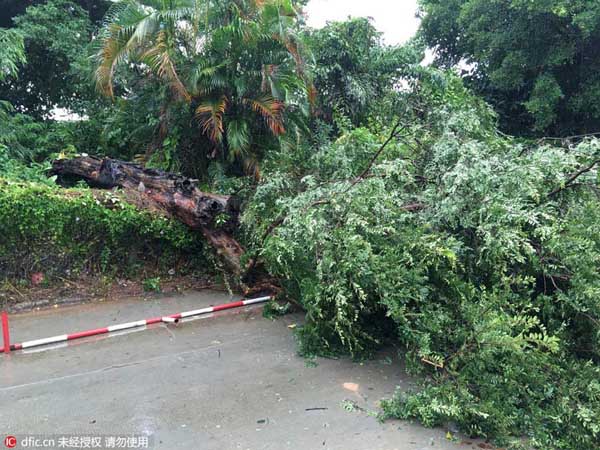 A tree is ripped apart as Typhoon Nida makes landfall in South China's Guangdong province on early morning of Aug 2, 2016. [Photo/IC]]
Typhoon Nida landed at 3:35 am Tuesday at the Dapeng Peninsula in the city of Shenzhen, South China's Guangdong province, local weather authorities said.
The strong typhoon packing winds up to 151.2 km per hour is moving northwest at 25 km per hour, and is expected to sweep across the cities of Shenzhen, Dongguan, Guangzhou, Foshan and Zhaoqing to Guangdong's neighboring Guangxi Zhuang Autonomous Region, according to Guangdong provincial weather authorities.
Dozens of flights, trains and ferries scheduled for Monday and Tuesday were canceled on Monday as China issued its highest alert for Typhoon Nida, which was heading toward Guangdong province and neighboring southern areas.
Nida, the fourth typhoon to hit China this year, was moving northwest toward southern and southeastern China. It was forecast to make landfall in the central coastal part of Guangdong on Tuesday morning, said DongLin, an expert in typhoon forecasting at the National Meteorological Center.
The center issued a red alert, the highest emergency response among the four-tier national system, on Monday afternoon, warning of squalls, heavy rain and rough seas.
"The typhoon may grow stronger as it edges closer and reach its peak when landing," Dong said on Monday, adding that winds of up to 172 kilometers per hour, or force 15 on the Beaufort scale, were possible at the typhoon's peak.
Niu Ruoyun, another forecaster at the center, said the Pearl River Delta would be the region hit by the strongest downpours through Tuesday night, with the volume of rainfall possibly reaching 100 millimeters per hour in some areas.
The typhoon was expected to affect large regions of the south and southeast, including Fujian, Guangdong and Hainan provinces and the Guangxi Zhuang autonomous region, Niu said.
Guangdong has geared up efforts against the typhoon, which will be the first to hit the province this year, by issuing a red alert that took effect at 2 pm on Monday.
Zhou Yawei, deputy mayor of Guangzhou, the province's capital, ordered all construction sites to halt work, while schools were to suspend classes and residents were encouraged to stay indoors.
All the city's emergency shelters will be open to the public, the city government's statement said.
Ferry services connecting Shenzhen, Guangzhou and Hong Kong were suspended on Monday. About 100 trains heading for and departing from cities in Guangdong province have been canceled or will change lines to avoid the typhoon until Wednesday, according to statements from provincial train stations.
For example, all trains heading for Hainan were halted, and trains linking Guangzhou and Zhuhai were to be suspended on Tuesday. Dozens of flights in three major airports in the province also were canceled or delayed due to the coming typhoon.
In other affected provinces, governments also issued high alerts on Monday, requiring full preparations for the typhoon, including that all fishing boats must remain sheltered.
Wuzhou, the city hit by an earthquake on Sunday, was warned to be prepared for landslides or other downpour-triggered geological disasters on Monday and Tuesday, said Dong, of the National Meteorological Center.
The Ministry of Civil Affairs urged the affected governments on Monday to closely monitor the typhoon's movements and update warnings and information to the public in a timely manner.
The China National Commission for Disaster Reduction recommended that residents in the affected regions stock up on enough daily necessities for one to three days.