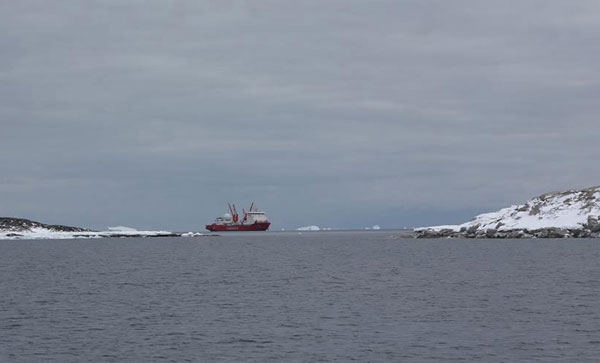 Chinese icebreaker "Xuelong" anchored off Australia's Casey Station, on Feb 21, 2016. [Photo/Xinhua]
China is planning to build its first domestically produced polar icebreaker.
Shanghai-based Jiangnan Shipyard Co Ltd made the announcement Friday, saying construction will start by the end of this year.
"Xuelong", or Dragon Snow, is currently China's largest polar icebreaker which was bought from a Ukrainian company in 1993. China refitted it into a polar research vessel at a cost of 31 million yuan, about $4.6 million, and put it into service in place of the Research Vessel Jidi in 1994. "Xuelong" has completed 32 expeditions in Antarctica and is now on its 7th Arctic expedition.
With a length of 122.5 meters, the new home produced vessel will be smaller than the "Xuelong", but with stronger icebreaking power. "Xuelong" can continuously break ice as thick as 1.2 meters (including 0.2 meter thick snow) at a sailing speed of 1.5 knots. While the new vessel is designed to break 1.5 meter thick ice at 2 to 3 knots sailing speed.