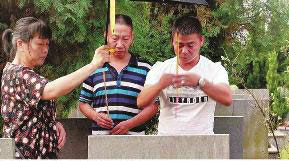 Ma Jianhua (right) and Li Rongfu (middle) pay respect to their deceased parents after going home 44 years later. [Photo/Huashang Daily]
When Ma Jianhua and Li Rongfu appeared in front of the waiting crowd on July 24, cheers and applause erupted. The family members who have been separated for four decades hugged and shed tears of joy.
Ma and Li are twin brothers who were born in Shaoxing in Zhejiang province in 1972. They had five elder sisters and brothers.
When they were three months old, their parents decided to give them to other families for adoption, because they were unable to support so many children.
The brothers were given to two relatively well-off families from a village in Henan province, which is over 1,000 kilometers away.
The adoptive families of the two brothers were only 500 meters away, but the two families had no close contact. And the parents did not let them play together.
The two boys' lives were parallel until they entered the middle school.
They were arranged in the same class and sat together as "their teacher thought they looked alike and had similar height."
They became intimate friends, playing together and sharing secrets with each other in spite of the objection from their parents.
They were good buddies and they even found their identity numbers were all the same except the last digit.
Life went on and if it were not the sudden changes that happened, the true identities of the two brothers may have not been revealed.
About 10 years ago, Ma's adoptive parents and elder sister died in succession. The trauma left Ma depressed. And then the foster father of Li Rongfu came to Ma, along with a yellowed photograph.
He told Ma to not be sad because he had other family members alive in the world. It was then that Ma Jianhua found out that Li Rongfu was his twin brother.
After recognizing their real identities, the twin brothers did not start looking for their real parents immediately in order to not harm the feeling of the adoptive parents.
They only started searching for their family members in recent years when they thought it was right time to do it before they came in contact with their sisters and brothers in Shaoxing, Zhejiang province.
When they finally found their family members, they were told that their parents had passed away long time ago.
"I could understand my adoptive parents. I would have done the same if I were in the similar situation," said Ma Jianhua who did not blame his adoptive parents for covering the truth for years, and said he will be grateful to them for the rest of his life.
"We will invite our family members from Shaoxing to my adoptive home in Henan, and we will also go to Shaoxing to visit them often," said Li Rongfu.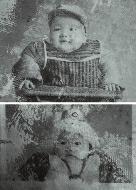 Photos of the twin brothers when they were babies. [Photo/Huashang Daily]